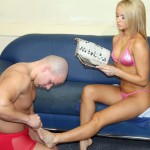 I just love summer, the breeze, the fresh sweet flowery smell and the sounds of birds. Life is good in the suburbs: peace, quiet and relaxation away from the mess and fuss of the city. Being a lawyer has its benefits: a nice big house, a super fast car and all my holidays in exotic destinations. In my job I have to be in control of everything – my clients, the jury, my emotions while pleading and the constant flow of cash I bring to the firm. All this control has a downside though – sometimes you get bored very fast of everything in your life. Something excites your interest for a moment but after you taste it, the magic is gone. That's what I used to think about my life, about the world, about other people… until I met her. My neighbor from across the street.
She moved in a couple of months ago and our paths have crossed one morning while jogging. I asked her out for a cup of coffee as I usually do with every gorgeous woman I meet. After I invited myself to her house for a movie one night I discovered her other side; it's then when she became my Mistress and I became her slave. It was the only time in years where I wasn't in control and it really turned me on. I see her every week we're both in town. Last time I saw her she ordered me to be at her place at 8, she said something about a treat. I counted the days and now I'm anxious. Another three more hours and I am her slave for the night.
I take the car out for a quick drive to clear my mind from all the stress. Every time I step on the peddle I feel the adrenaline pumping through my veins, but it doesn't compare to how she makes me feel. Nothing compares to that.
As I drive back home I see her car parked in front of her house. "Good" – I think, we're still on for tonight. I put on my fancy suit and go to her house. I knock on the door and she lets me in. I'm so curious about that treat.
As always she tells me to take off my clothes. This time she also takes off her black leather pants. Could her perfect round ass be the treat for me? My heart starts pounding like I'm running on the marathon. She ties my hands behind my back and puts a collar on my neck with a long metallic chain. She puts her knees on the couch and then I hear her voice:
"Put your head on my ass and start licking!"
I obey her every word and I start playing with my tongue on her tight hole. She pulls the chain and presses my head harder on her ass.
"Do you like that, slave? Do you like to be humiliated?" – she asks me
"Yes Mistress! Yes" I mumble while I can't get enough of her ass
I can see her getting wet and she can see me getting harder and harder. "Could this be it?" – I wonder – "Could this be my treat?"
"You amuse me slave! Do you think I would let you do that to me?"
"No Mistress!" – I try to hide my excitement
I feel the might of her palm over my big hard manhood and a very painful sensation invaded my whole body.
"Don't ever think of that again!" – she said with a very angry tone of her voice
"Get on the bed" – she added
I do as I'm told and she ties both my hands and legs to the bed. She then claps her hand twice and the most amazing blonde comes into the room. She is only dressed in some stockings and she her luscious body is exposed. She looks like a girl from the cover of a magazine. The Mistress puts her hand on the girl's head and pushes it down over her breasts and tummy while she's licking her way. Once she's there she starts a circular motion with her tongue and the Mistress pulls her blonde long hair. This scene is really turning me on but there's nothing I can do about it, just watch.
She turns her sexy ass towards me, makes her bend, spreads her legs and starts licking her ass. She then puts a finger in the girls mouth and after that she inserts in her tight hole. I can see her looking at me while she's doing that and she can read that desire in my eyes.
"Would you like that, slave? Would you like to be that finger?"
"Yes Mistress, Yes! I would like that very much!"
I feel so hard and I can see I'm also getting wet. I can't hide these cravings and they both know that.
She starts moving her finger faster and faster while she moans with pleasure. My body vibrates with every moan and I start feeling a strange pain down there. The kind of pain you feel when you get very horny but the girl leaves you unsatisfied. I hate that pain!  She knows that and she's punishing me!
"Please Mistress, don't leave me like this!" – I beg
She puts a strap-on and inserts that huge plastic dong inside her wet pussy. The girl starts screaming with pleasure while the Mistress pulls her hair. I bite my lips and clench my fingers and toes. I want her so bad. She starts moaning faster and faster and for a second her body starts to shiver uncontrollably. She seems so fulfilled, so satisfied.
"I beg you Mistress! I beg you"
"Do you want her, slave?" – she asks
"Yes Mistress!"
"Do you want her to be your treat?" – she adds
"Yes Mistress! Please! I want her so bad!"
She takes a bottle and pours oil on the girl's ass. She guides her to the bed and gets her round ass closer and closer to me. The girl starts rubbing it on my body and focuses down there. While she's doing that, the Mistress starts pulling my collar and says:
"You like that?"
"Yes Mistress" – I respond, while invaded by pleasure
The girl massages me with her ass faster and faster, and the oil gives and amazing sensation.
"I want you to cum for me, slave! Cum for me!"
"Be a good slave and cum for me!"
I can feel the pressure building up, there's no turning back now. After a second I feel  my body pulsating in incontrollable spasms while I discharge all that passion on the girls back and hair.
I really enjoyed my treat.
As I walk home, I feel like I'm floating. It's amazing what a woman can do.