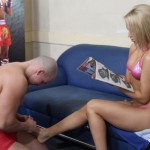 As I look outside my window I can see the snow falling over the cars in the parking lot. There's always something magical about the falling snow and the cold weather outside. I enjoy having a cup of tea by the fireplace. The sweet cinnamontaste and the radiating warmth bring back so many memories. As I was in my twenties, my dad used to tell me so many stories this time of the year. I'm interrupted by the phone. I answer and I hear his voice. I know he's calling for one reason only.
"Be here by 9!" I tell him while I hit the red button on my cell. I always must be very firm and brief in my conversations with him. It's the only way I can maintain my position of power, of dominance.
But let me tell you about him. I met him six months ago at the local gym. I caught him staring at my ass while I was on the cardio machine. He smiled and offered to buy me a cup of coffee. He seemed to respect me very much, I knew from the start that he wasn't like the other guys. We get together occasionally, but I can't exactly call them dates. I date other men, but it's not as half as exciting. He gives me a sense of fulfillment that I can't find anywhere else. For him I'm more than a woman. I'm not his toy, his object… but he is mine. I'm his Mistress. I thrive from his humiliation, from his absolute submission towards me.
As the clock is almost 9 I can hear his knocks on my door. He's always on time, not once late. That's another sign of how much he respects both me and this thing we have going. I let him in and tell him to take off his clothes. It's pretty cozy inside.
"On your knees!"
"Yes Miss Justine!" – That's how I told him to call me, from a book I've read in the past.
I use a stick to push his head towards my feet. I love it when he licks my shoes. As he does this I stroke that stick over his naked back. I can see his body trembling and it makes me feel in control.
I then take his head with both my hands and press it tight to my lady parts. He starts licking my pants and I pet him like a good servant he is. I unzip my pants and pull them down. Now I can feel his tongue playing with me. I press his head harder with every stroke of his lips. I put a collar around his neck that has a chain attached to it. I start walking him through the bedroom, hitting his back occasionally with the stick. I drag him into the bathroom. I take all my clothes off and turn on the shower. On his knees I make him lick my feet and toes while the hot water touches our bodies.
"Suck on my toes!"
"Yes Miss Justine!" he replies while I can feel his warm moist tongue. This feeling drives me crazy, seeing him like the slave he is, doing everything in his power to please me.
I take the collar of his neck and tie his hands with it. I then strap him to the shower support. He's so powerless right now. I see him very aroused and I start spanking his manhood.
"Do you want a treat, slave?"
"Yes Miss Justine!" he responded with excitement in his voice
"I can't hear you, slave!" and spank harder his manhood
"Yes Miss Justine! Yes!" he starts screaming
I pour some shower gel into my hands and start rubbing him. I could hear him moaning with my every stroke.
"Do you like that, slave?"
"Yes Miss Justine! Yes! Yes!"
As the excitement builds up I pour some of the gel on my ass and start rubbing that on him really hard. I love being in control. I can feel him really big and hard. He can't help moaning. He wants it and he wants it bad. I push my body into him as he could almost penetrate me, but I'm only teasing. I wouldn't ever let him do that.
"Do you want to cum for me, slave?"
"Yes Miss Justine!"
"How much do you want it, slave?"
"Very, very Much Miss Justine!"
I pour shower gel over my breasts and start rubbing his manhood on them. I could read the desire in all his body. But not just yet! I start squeezing his scrotum with power as he agonizes in pain.
"Beg me, slave!"
"Please Miss Justine! I beg you to let me cum!"
"I beg you Miss Justine!" he adds with so much desire in his voice
I finally release my squeeze and all that warm cum floods my breasts as he screams with pleasure.
"You have made Miss Justine very happy, slave!"
"Now clean me up with your tongue!"
This final humiliation turns me on so hard and as I feel his tongue over my breasts I can't help shivering with pleasure. This tremendous feeling takes over my whole body and mind and I'm again in control.