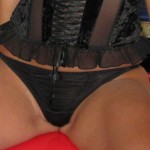 The Olympics are nothing compared to this kind of event! I think I could live fine without knowing about any other "sport" than this one. I mean, it's truly what makes your heart beat so loud that you can make a song after it. I was the athlete and my Mistress was the arena, or the field. I was the engine and she was the road… I was in for a long round of working my ass of and she was in for a long ride of pleasure.
When I burst through her door, I did not know what happened, she called me and told me to be there as fast as I can. My eyes doubled their diameter when I saw her sitting on top of her bed and laying around there were all sort of sex toys, vibrators, dildos, strap-on (which I find kinda' insulting actually), even a sybian machine. It was like a sex shop exploded in there but only the good stuff remained intact. She was wearing a really kinky outfit, white lace stockings just a bit above her knees, a pair of crotchless panties and a push-up lace bra that would feed my dreams for a month. On top of that, her hair was tied in pig tails, giving her an extra dose of naughtiness. I couldn't get my eyes off her but I couldn't imagine what was with all those sex toys also. If those were a present for me, I think she forgot that I'm a man… Perhaps it's better for me to ask before jumping to any conclusions.
"What are all these for Mistress?"
The smile she had led me to believe that she's in a good mood, better yet she's in a playful mood.
"I want you to put all your strength at work for me"
Ok, so for this I needed tools as it seems. The strap-on was still like an extra puzzle piece, I didn't knew why it was there since I possessed the perfect replacement… but then again, perhaps I'm not worthy to use my own "instruments" on her pure body. I dared to go forward, sit on the end of the bed and as: "so what shall I do Mistress?" I was really uncertain that the question was the right one, but still I had to start from somewhere. "You will do whatever I told you to". That was clear as crystal, but I had to know on what to put my hands first, right? She pulled her panties off, letting her waist naked and ready with all the other underwear pieces on. Hot as fire I might add…
She got on the sybian and ordered me to start it on lowest speed. I fixed my eyes on the little rubber on top of it, the way it just melted between her legs dried my throat instantly. Lucky bastard… I pushed the ON button and the buzzing sound started to make itself heard beneath her gorgeous shapes. Being at low speed, nothing extraordinary was happening, other than this perfect display of the most insanely hot body in the entire world. She had her eyes closed and kept moisturizing her lips constantly with her tongue. Another sight which drives me insane… Without realizing I was rotating the scale to higher speed while watching her reactions. She began to vibrate with every fiber, moaning louder and moving a bit forward and backward. I wish I could take the place of this devilish machine, I would gladly shove a car engine up my ass just to make myself vibrate and pleasure her like this…
She stood on the sybian a half an hour, moaning, screaming and trembling from her bones. I was there, in front of her, holding the damn remote and just looking, unable to do more. Nice way of punishing me Mistress. After she got herself dwon from it, she lied down and said "hey, you need to clean this" pointing at her ravished and wet vagina. Oh goodie, so I get some action after all. I'm closing my head to her thighs and I receive a slap with speed of light. "What do you think you are doing? Did I allow you to put your filthy mouth on me?"
I'm really confused now, what else should I use? With my cheek burning and probably having skid marks on it, I couldn't use my mouth anyway, so what should I? "Take that small vibrator and rub it on me…"
Damn… so I'm here for my hands only! I take the mini-vibrator and slowly push it against her clit. This little thingy is very powerful, I don't want to use it improperly. As I'm doing this, my head starts to go down involuntarily. I wish I could put my tongue there to help, I wish I could taste her and quench this craving I have for her… I'm very close to her right now and I'm not aware if she noticed. But something tells me that what follows is she does, won't be good for me.
"Get your pants down and don't stop doing this!" Oooow yea, finally some action for poor me. With one hand I was trying to get rid of my pants, chaotic and uncontrolled, but I had to continue with the small vibrator. I was so excited, bursting with anticipation. I managed to remain half naked and looked her right in the eyes, with the figure of a longing man. I was inches far from her with my head, one drop and I would've been touching her. She could clearly see that… She smiles, stops me, gets up and tells me "you think I haven't noticed you? You disobeyed my orders!" Yeah, as if I could've hold myself in one piece and act like I'm made of stone. Of course I've disobeyed her, most of it involuntarily. But now what?
"Give me that strap-on…"