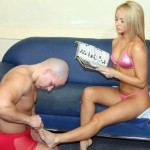 As the boat gets farther and farther from the land, a deep feeling of tranquility invades my mind. The sound of the ocean and the occasional cry of a seagull are the only things interrupting this heavenly dream scenario. What else could want a man that has it all? That's a very tricky question. I've built an empire starting from scratch. I could afford almost anything. I have my own island, my own jet- but there are, as you probably know, some things money can't buy.
The problem with having money is that it gives you power over people, it makes you desirable, it makes people act in ways they wouldn't normally do. I had lots of women in my life and I've fulfilled most of my fantasies. It's amazing what a ride in a Ferrari could do to a woman. She would do anything and everything to you, and this is what probably bored me. The same routine with almost every woman. 
Every woman, except her.  I could write a whole book about her and still couldn't find all the words that would express how she makes me feel. And now is one of those moments when I feel just like that. A man with tremendous power and influence feeling so powerless in front of her. I'm on the deck now because she ordered me to. She she'd she had to prepare herself.  After a few moments I will return to the cabin curious and anxious. As I walk the wooden stairs my heart races with excitement as to what surprise she has prepared for me now.
I knock on the door – usually I don't ever knock on door – but now I'm a nobody, I'm a slave and I have to be obedient.
"Come in" – she says
As I enter de cabin and I'm encountered by a gorgeous police woman in a very tight uniform and wearing a lot of mascara.
"Business or pleasure?" – she asks
"A little bit of both" – I answer
I don't even get to finish my sentence because she pushes me against the wall and hits me on the back of my knees with her club.
"Are you being a smartass with me, slave?"
"No Mistress! I'm sorry Mistress!" – I say, while the pain still takes over my whole body
She handcuffs my hands behind my back and uses her club to keep me flat against the wall. She then moves that club all the way down my spine. She unbuckles my belt and unbuttons my pant… and pulls them down. She uses the club to take off my boxers as well. As this happens, a freighting though crosses my mind. Especially now as she spreads my legs.
"Is this what you do to your women, slave?"
"Would you like to see how it feels?" – she added
"No Mistress! Please! Not that!" – I started to babble terrified  
I felt something wet and oily pouring on my ass..
"No! No Mistress!" – I begged desperately
She pushed the club with one firm stroke. I felt so humiliated, so naked, so exposed, so helpless.
She started to move that club in and out with very decisive motions. At the same time she then put her other hand on my manhood and started to play with it. At some moment all this pain and this cocktail of sensation started to transform into pleasure. I was getting really hard.
"Do you want me to stop, slave?"
"No Mistress!"
"Do you like me ravaging your ass?"
"Yes Mistress!"
I felt her really enjoying this absolute control she had over me as I could see drips of pleasure falling on the wooden floor right from under her. And I was getting very aroused too.
Her hand went from down there to my mouth
"Suck on those fingers like the slave you are"
And I started licking her fingers and sucking them with my eyes closed. I felt like a real slave. A slave that would do anything to make my Mistress happy… because only she has the key to my secret desires.
"Are you ready to cum for me?" – she asked while she slapped me over my manhood
"Yes Mistress!" – I respond while my body pulses from the pain
"Not without my permission you won't!" – she said with an even louder voice
She turned me facing her, got down on her knees and started rubbing my manhood over her breasts while her other hand was pushing and pulling that club.
"I want you to cum for me! I want you to cum on my breasts!"
"Yes Mistress! Yes! May I have the permission to cum?"
She poured some of the same oil on her breasts and stared rubbing really fast. I was overwhelmed by the sensation and in a few seconds I filled her breasts with my warm, sticky cum.
This is one encounter I will never forget!