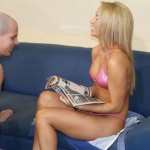 It's 11:30 in the evening and I can't sleep. This is the third time this week when this weird insomnia takes hold of me. I must be overworked and overstressed like the doctor said last time I went to a physical. I really need a vacation, but I also want that promotion.  I keep turning my body from one side to another but no luck in finding that right spot. I turn on the tv but then I realize I only keep on changing the channels. I take a look at the phone and it's  12:10 – "Should I call her?"
I dial her number and I'm encountered by her voice
"Do you know what time it is?"
"I know it's late but I can't sleep"
"You have 20 minute to get here!" – she says and hangs up
I feel a little lightheaded but I put on some clothes, I grab my shoes and get out the door. It's almost 12:30 and I know gently at her door. She lets me in with a weird smile on her face. She's dressed in some fancy black high heel shoes, a leather mini-skirt and a tight leather top. Her long blonde hair goes very well with this outfit and her dark eyes seem to be much rested.
She puts both her hands on the back of my head and presses it on her chest. I pull down the zipper and start sucking on her sweet medium-sized breasts. I'm almost biting them as she pushes my head harder into them. She then goes behind me, pushes me with her hands and then I feel something covering my face. It's some kind of leather mask with holes only for my nose and mouth.
She pushes my head down until I reach her skirt. She then presses my head on her body and I pull up the skirt. Her hands guide my head so that my lips are touching her outer folds and then presses really hard.
"Lick on that, slave!"
I start moving my tongue while I can feel her muscles getting tighter. She presses my head with both hands while I can barely breathe. I can hear her biting her lips as I start to draw imaginary circles with my tongue. I can feel her getting wet.
"Enough, slave!"
"Pull down your pants and sit on this chair!"
I do exactly as I'm told, and as I feel the chair under me, she takes my hands and ties them at my back using the rest as support. She also straps my legs by the chair.
"Do you know what a fleshlight is, slave?" – she asks
"Yes Mistress" – I answer as I remember and email I got once from an online sex-shop
She grabs my manhood and starts stroking it. She then grabs my scrotum and presser really hard. The pain I feel makes my body spasm in agony.
"Are you sorry you woke me up in the middle of the night?"
"Yes Mistress!"
"Will you do it again?"
"No Mistress" – as I answered I feel again that incredible pain all over my body. She is petting me, then spanking me and squeezing me. The pleasure mixes with the pain but my voice starts to groan and adrenaline and anxiety take over my body.
"Please Mistress! I promise I won't do it again" – I beg her
"Would you like to feel that pussy?"
"Yes Mistress!" – I answer as I catch my breath
She starts pressing the fleshlight on my manhood until it's all in and then she starts moving it back and forward. As she does this she pours lube on it for a more natural feeling. This really gets me turned on and makes me so hard. She moves that thing with so much precision that I can't stop building up tension. My breathing gets harder and harder and my pulse accelerates. The only thing stopping me from exploding is her other hand that keep pressing on my scrotum. She's blocking my climax and she's really enjoying it.
"Do you want to cum for me?"
"Yes Mistress, please!"
"Maybe I will let you, maybe not!" – she says and I could feel the smile on her face. That satisfactory smile only a Mistress could get from her slave.
She accelerates her strokes, faster and faster as she teases me.
"I want you to cum for me, and I want you to cum really hard! – she says after a minute or so
"If you won't cum hard I'll be very disappointed. You don't want to disappoint me, do you?"
"No Mistress!" – a dare to answer
I could now feel the squeeze getting weaker … "This is it" I tell to myself. I'm not feeling the fleshlight anymore but her warm hand. She wants to finish the job she started. She wants me to cum for her. As the moments pass I feel a very powerful feeling taking over my whole body. My breath stops for a second, all my muscles are tense and then, with an uncontrollable moan I release my load on her fingers.
"That's a good slave" – she says while she's petting me like a puppy – "That's a good slave"