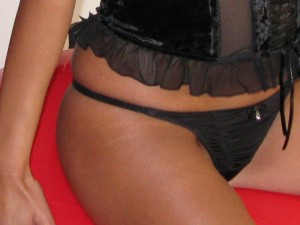 Due to some problems, for the past 2 weeks I've been sleeping at my Mistress's house. This is not actually a bad thing, now I'm there when she wants me and I can serve her each second of the day. One thing is for sure, I can see the wheels turning in her head and there's a plan cooking in there… if it didn't showed up until now, it won't be long until it does.
It's passed midnight, I'm staring at the ceiling, unable to sleep and unable to think of anything else than the fact that's she's a few feet away, right there, at the reach of my hand. All I had to do is open the door, go to her room and… and what? What am I going to do one I'm there? Silly man, you're hopeless… Another hour goes by and by now I managed to have her toes in my mouth, sucking them tight and making her tremble… all in my mind though. I'm thinking that if I put her in my imagination, perhaps I'll fall asleep to this dirty thought.
The door to my room slowly cracks open and a tiny piece of light finds its way inside. With it, the shape of a body appears and I can sense her godly presence trying to get in. What's happening? Is it possible that I'm having a "dreaming with eyes open" experience? This can't be something related to one of her unpredictable cravings which I'm so used to (like a glass of juice in the evening, or a piece of cake or something that she wants and feels too lazy to get it for herself) because it's way passed bedtime. All I'm doing now is staring at the door, trying with all my heart to predict the next move. Perhaps she just wants to take a quick look, perhaps she opened the door by mistake or… perhaps she wants to come in. Oh, let her come in, I can't imagine falling to sleep in a better way than after a fooling around with her! If there's something that can drain all my energy, she certainly knows what it is.
She cracks the door a bit more, pushing her head through it and trying to see if I'm asleep. Good luck with that Mistress, it's pitch dark inhere… Oh, she comes in slowly, walking smooth and moving her gracious body with the agility of a feline. I watch every step she takes, making my breath quieter so I can hear her also. I can't say what she's wearing but the main thing is that she is here now. The door is still opened a bit so the small spot of light from the hallway makes a diffuse stripe on the floor, just enough to increase her shadow which now comes closer and closer to me. It doesn't matter if I have my eyes shut or opened, she can't see it. Leaning slow over my face, she tries to see if I have any reaction… nope, none. Even though everything bursts inside of me, I keep my calm and wait. With the dexterity of a thief, slowly pulls her underwear off her, kneels near my bed and comes closer to me. I'm not completely covered with the sheet, so she has plenty of room to play. I feel the soft material of her panties sliding from my belly up to my face, slowly, like she wants me to dream about it. Her scent wrapped around my head like a cloud and as she was bringing her panties closer to my nose, my breath began to amplify. Still, I had to keep it under control, I couldn't risk making her stop! You know that feeling you have when you 're dreaming of something but you can't move? This was exactly like that, the only difference was that I had to stop myself from moving, especially to not make this "dream" disappear…
She rubs them on my face from a distance, barely touching me, letting the sweet smell surround my scent, pushing that fragrance deep in my nose. I accidentally  licked my lips, as a dog does when he sees something good to eat. She laughed and got the panties closer to my mouth. This time I licked my lips voluntarily, catching a glimpse of the soft and tiny piece of underwear on the tip of my lip. Perhaps this was something she didn't wanted, because she took them away from me… I ruined everything…
But I didn't… I feel her crawling in the bed, on top of me, carefully to not wake me up. What is she doing? Almost all her weight comes now and is on me, moving towards my head. I can see through the shadows drawn by the small light that she puts her hand on the wall and bends over. Not easy to realize how until… oh my god, she wants to sit on my face. She begins to rub her panties on my mouth, waiting for my lip licking reflex and as soon as I do it, she pushes her wet pussy just a millimeter above my lips. Every time I do this I'm able to taste her sweet juice and I'm on the verge of going crazy.
I can't hold it anymore, I open my eyes wide, look up and see her perfection being there and bouncing slowly on my mouth. I grab her waist and push it hard on my mouth, sticking my tongue as far as it goes. A harsh moan flies out her mouth and almost makes her fall. She doesn't stop me, she doesn't even say anything. I wonder my tongue all around, squeezing the waist harder and pulling it towards me so hard that I can get no air now. It's ok, I don't need air, and she is my dose of oxygen, replacing everything I need to be kept alive.
I delight myself with her right now, taking advantage of every second. Even if she pulls out and punches me, it's ok, at least I had the chance to enjoy this. But, to my surprise she remains still, as still as she can stay with me doing this. After a few seconds she starts to help me, moving her middle back and forward, adding pressure and covering all my face. Now every bit of her feminine splendid zone rests strongly on my head, moving as in a dance, sucking my last piece of air. That's right Mistress, don't stop, let me feed on your tasty juice, let me explore your insides with my tongue.
She stops for a second, reaches the small lamp near my bed, turns it on and looks at me with her lips trembling… "I'd like to see…"