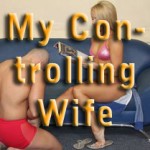 I've been with my wife for a long time, and she's my high school sweetheart. We met when I was a freshman in high school and she was a junior. I looked at her across the hall after I left my morning Math class and she was leaving a Chemistry class. We kind of smiled at each other and we talked a while later, and it led to us dating and then getting married. We have been married for a while now, and have a few kids, but one thing that she demonstrates everyday is her controlling and dominating nature, which I love.
My wife is a manager at a large office and works a ton of hours, as do I. Our children are older and when we come home it's just the two of us most of the time. But, the minute I come in the door, she is 100% in charge. She has been most of my life, and that part of her I enjoy and sometimes find very erotic. From the minute I get off work, she texts me orders on what to do, where to go, and what type of dinner I should pick up from the local store. If I get it wrong, she is sure to scold me verbally for my wrongness, and she usually withholds any affections from me meanwhile.
The other night, I was done around 5:30pm, and I looked at my phone and I had three texts already from her since 5pm. She texted me, "Where Are You Dumbass?", "You Aren't Ignoring Me Are You?", and "You Had Better Respond Quickly", all rapidly typed and sent in my direction. I called her back and she barked at me as to why it took so long to reply to her. I told her about a client meeting that ran late, and she said it didn't matter and that from 5pm on, I was hers, and to only pay attention and tributes to her. I humbly apologized to her, and asked what I could do. She told me to pick up the dry cleaning, grab some alterations from the sewer nearby, and make sure the dinner was hot from Ming Chinese downtown. I got home and made it just in time as she was standing by the door, tapping her foot and waiting for me. She said, "Finally You're Home", and I felt that I did the job well.
The past week though, we were out to dinner and a show, and she really showed her bossy and dominant self, and it was sexy. We took a taxi to the restaurant, and she stood by the taxi door waiting for me to open it. She yelled, "Open It Already", and I opened it quickly and got in next to her. We arrived at the place, and told me all about her day, how her friends were doing, and everything I did wrong during the week. She was a little loud, and others looked as she was scolding me in the restaurant. But, I was enjoying the public scolding, as we don't get out much. The show was even more dominating, as she told the ticket guy how he was doing his job wrong, how the usher was being too slow, and pushed me aside as I got in her way on the way to our seats. During the show, she whispered in my ear how sexy the actors were, how she wanted to sleep with them, and how big they must be compared to me. We got home, and she told me that I served her well by taking her out, but next time make it a limo, and I noted to myself to make sure that the limo would be available to her.
But, where she truly shows off her controlling and dominating style is in the bedroom. She always tells me how small I am, and how I cannot please her. She tells me how she wished that she could have had someone larger and dreams about other guys when we are in bed together. She barks at me, telling me how to kiss her, how to please her, and how to give her the proper female pleasuring. Do it this way, not that way, c'mon baby, and other frequent things are said during lovemaking, and she is totally in control. I was in between her legs one time, and she grabbed my head in between her legs, and yelled at me for eating her out the wrong way. She yelled, "Do You Know What You Are Even Doing?" to me, and I said, "Yes My Love", and she said, "I Don't Think So", and she put on her pj's and went to sleep. She left me hard, willing, and able to continue, but I knew that if I displeased her in any way, I was doing the wrong job.
She has mentioned the idea of having other men in the bedroom with us as well, and I find that somewhat interesting. She said she wants other men to make love to her as I watch, and for them to show me what a real man could do to her beautiful body. She tells me how a big black man would be her ideal dream, and wants to have him pound her hard and make her wet and orgasm all night long, like I couldn't do. I'm not totally sold on this yet, but if she wants to have another guy in the bedroom with us, and especially a big black man, she will have it. She is my queen, and she is the boss, and pleasing her is what I do to make her happy. She has long blonde hair, a sexy figure, and is the girl I fell in love with during high school, but this grown-up is the 100% boss, and she shows me every night that I am to praise her and do only as she says.
By Venomous Eliza
Category: Domineering, Controlling Wife, Domination