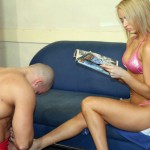 As the water rushes over my face I take a quick glimpse in the mirror. My makeup is ok, my eyes don't look that tired and my hair is quite ok today. I just love this new shirt, it goes very well with that dress I've bought a few months ago and had nothing to match it. It's hard being the CEO of a big company. It's even harder if you are a woman. In the past few years my life has been an endless routine: office-home-office. There where nights when I only slept three to four hours, and there were also nights when I didn't sleep at all. I'm married to my job you could say. I know my mom and dad would be proud and disappointed of me at the same time. They always wanted me to have a family. But I don't have time for a relationship. Sometimes I don't even have to eat dinner. Coffee is my only real, intimate friend.
Don't get me wrong, I sometimes go out with men and have a really good time. I don't like waking in strange beds so I always bring them to my place. Not any men, though. I only go for men in flashy suits. But there's somebody else in my life. Somebody that makes me feel in complete control. Somebody that makes me feel more powerful than being the boss of 1200 employees. Her name is Angela and she is my servant. We ran into each other yesterday and I told her to be at my place at six. She never finds excuses and she is very obedient. I guess that's what I like the most about her. And also her eyes; her sweet innocent eyes.
I pour myself another cup of coffee and stare at the kitchen clock. She will be almost here; I better go and get dressed. I'll wear this leather skirt and this purple leather top. My makeup must be perfect; I can't ever show signs of weakness. I will also take out this toy, but I'll tell you about that later.  Did you hear those three shy knocks on the door? It must be her.
I let her in and examine her body, her reactions. I love it when she looks so nervous. She has no idea what I have prepared for her this evening. Her weakness gives me power.  
"Take off your clothes!" I command her
She always does as she's told. I really like that delicate body of hers. I don't know if she has a husband of boyfriend that enjoys her but I really don't care. I only know that twice a month, for a few hours she's mine and mine only.  
"Lay on the bed, slave!"
As she respects my command I put my body over her face. I don't have any underwear under this skirt so she has access to my pleasure parts. I like to press hard sometimes, to feel her body desprerately gasping for air. I love beind in control, complete control over her.
"Eat my pussy!" I order her
"Yes Mistress!" I hear from her shy, submissive voice
I start feeling her skilled tongue down there. She's really gifted at this. It won't take her longer than three minutes to make me cum, but I never let her that long. I don't want her to feel like she's having control over me.  As she moves her tongue and lips I stroke her body with a whip. I love it how it trembles my every touch.  I love the marks it leaves on her delicate body.
I grab her by her hair and guide her off the bed and down on her knees. I walk her through the bedroom holding her hair and ocasionally spank that sweet perfect ass of hers.
"Bend over the desk" I tell her while while she's obeyng like a the good slave she is.
I put a strap-on – the toy I mentioned earlier – and spread her legs with mine. I start penetrating her really deep and as I do that I can hear her moaning. This is how you feel powerful. This is how men felt for yers and years. Her submisivness really turns me on. I start going faster and she's dripping wet. I feel like she's about to cum… but not just yet.
I put a finger in her mouth and make her suck on it. After that I take that finger and press it against her tightest hole. I can see her biting her lips as the finger goes deeper and deeper in there. I start to move it and and I can see her whole body reacting to my every move.
"Did you give this to any man?"
"No Mistress!"
What can make you feel more powerful than getting something that nobody else did? I pour some lube on the strap-on and start going in with a decisive and direct push. All her muscles tensed and a loud scream came out. I started moving and she started moaning. While I was doing this I started to play whit her clit. It was not long until she started to tremble and scream of pleasure. She had an amazing orgasm while I was biting my lips from desire.
"You were a very good slave! Did you like my treat?"
"Yes Mistress!" she said with excitement in her voice
As she got dressed and left my apartment the only thing I could think of was how powerful I felt in those amazing moments. Thank you, Angela!