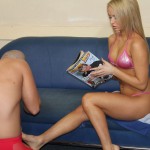 As I head home from work I stop by the market to do some shopping for the weekend. There's nothing left in my fridge and when you're working late and living alone that tends to happen every week. As I pass by the fruit and vegetable section I encounter a very familiar fragrance. A fragrance so particular and so intriguing that it's very hard to mistaken. And then our eyes meet.  It's her, my neighbor from the first floor; my neighbor that went on a business cruise four months ago and I didn't see her since. And she's not my ex girlfriend or something like that, I don't have feelings for her; our relationship is a bit different. I met her two years ago at the cinema. She was alone, I was alone and I decided to sit next to her. After the movie we went to her place, and it's then I realized we were neighbors. It felt so strange not bumping into each other at least once until then – but then again, there are so many people in my block that I don't know of. But she wasn't looking for love and romantic baths under the light of candles. From the way she first looked at me and from her respect demanding voice I understood what she was looking for: a slave.
Her name is Shirley but she told me to only call her "Miss Payne!". She is a very hot and sexy brunette with rich long hair and big black eyes. And her fragrance brings so many memories in mind. As our paths meet in the market and our eyes encounter for a second adrenaline rushes throuh my body. I quickly turn my eyes at the floor, careful not to defy her. As we get closer she puts her hand over mine while I hold the shopping cart.
"My place, tomorrow at 8!"
My heart fills with anxiety and my mind with all sorts of fantasies. I don't even know when I got home. I prepare myself a nice sandwich and I go to bed. I can't wait for tomorrow. I have to help a friend of mine move his furniture so the second day passes really quick. As is getting closer to 8 o'clock I take a quick shower and put on this new cologne I got as a present. I hope she likes it. I take the stairs for the two stories that separate us and knock at her door.  She lets me in and tells me to leave all my clothes at the entrance. Her authoritarian character takes over even from the start. I obey her every word. She ties my hands with a leather belt and uses a stick to guide my body.
She puts me on my knees while my hands are on the corner of the couch. She draws some sort of sketch on my body with that sick and presses it very firmly. She then moves that stick between my legs and pokes my ass with it. She then goes with it under my tummy and slap me hard with it over my manhood.
"Did you go out with other women, slave?"
"No Miss Payne!"
"Don't lie to me, slave!"  and as she says this she hits me again with the stick
"Only one, Miss Payne! Only one!"  again I feeling this incredible pain in my body.
"Why did you lie to me, slave?"
"I'm sorry Miss Payne!"
As I try to explain myself to her, she takes off her belt and hits my back hard with it. All my muscles contract and I feel down in incredible pain.
"I'm sorry Miss Payne!"
She gets me back on my knees using her stick as guidance and hits me again over my back and ass. The pain is agonizing. I start begging for her forgiveness.
"Please Miss Payne! I'm sorry I've lied!"
"How many women, slave?"
"One, Miss Payne! One!" my voice was ravaged by pain
She then ties both my feet with a rope. She takes that rope over the wall separating her bedroom from her dressing. I start hearing the sound of an electric motor while my body gets dragged upside down, back against the wall. My head and neck are still touching the floor. I'm in the candle position, but why?
She takes a chair and drags it right next to me. She sits on it and I begin to see under her short shirt from where I'm standing. She isn't wearing any underwear and under this light she looks absolutely amazing.  She starts rubbing my manhood with her moist soft hands
"Did you cum on her face, slave?"
"Yes Miss Payne"
"Oh you naughty slave, now you will get a test of your own medicine!"
Now I understood why I'm hanged like this. She starts rubbing me faster and faster while she looks into my eyes with her gorgeous seductive look.
"You will cum for me, slave! And you will cum hard!"
I try to calm myself down, to numb my senses but I can't fight it. She knows I'm so aroused. And her hands feel so divine. I wish I could, but I can't.  She spits on my manhood and keep on massaging it. We both know it's something no man could resist.  
There comes a time during sexual stimulation where you just can't stop. We men know this better than anybody. Once you've crossed that line, that climax becomes the most important thing in your life and nothing can stop it from you getting it.
As I start moaning, I feel drops of hot pleasure dripping all over my face. I feel as if the earth stopped moving for a few seconds and a hurricane just passed through there.
"That's my good slave! You made me proud!"
"Thank you Miss Payne!"