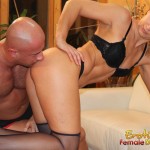 A slave husband should never be able to enjoy himself, especially since his hot wife is around and needs attention. This one got carried away and even touched the remote. It's time for the Diana to teach him a lesson and making a mess with her sexy black nightie on. First he must taste her hard shoes, sucking their leather and swallowing it in. The smell should be like a perfume for him.
Even the remote goes in his mouth! It looks like he's got too much air, so the Mistress stuffs his worthless face between her legs and makes him lick her lace panties. After a few seconds, she gets on top of his neck and pushes the shoe again in his mouth. Turning him around, he now must lick her godly ass until she is satisfied. Every time he fails to do so, a harsh neck scissor comes fast, as a punishment.
Watch Hotwife Diana's smothering video too!