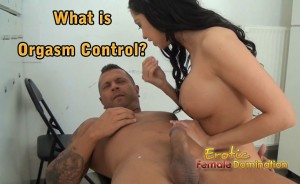 Orgasm Control is a fetish practice also called edging, peaking, or surfing and it consists of maintaining a very high level of sexual arousal for a long period of time without allowing the person being stimulated to reach the final sweet release of the sexual act: the orgasm.
This practice can be used in BDSM games and master / slave relationships and also in straight relationships in order to achieve multiple orgasms. This sexual fetish can be practiced by any two or more people engaged in sexual relations, regardless of gender, age or social status and while it seems easy to do, controlling someone's orgasm is a true art.
For example, orgasm control requires familiarity with either the partner or your own reactions to be able to vary the intensity and the timing of the stimulation just right. If the stimulation is too little, or if it is reduced too soon, the sexual experience is not as intense as it should be or it is not intense at all! If the stimulation is too much, the person may pass the point of orgasm and it will occur inevitably, ruining the point of orgasm control and denial.
In a master / slave relationship, the mistress can use orgasm control in order to coax her slave into doing all those dirty, naughty things she wants him to do for her. She constantly teases her slave in order to keep him aroused and when the slave gets too aroused and close to the climax she backs down in order to let him cool down, keeping him frustrated, on edge, and absolutely horny. Then the game continues until she finally allows him to have that elusive orgasm. In a situation like this, the orgasm is going to be extremely intense due to the build-up behind it.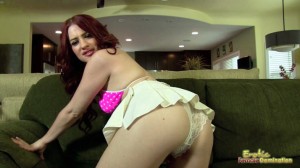 To better illustrate this practice I am going to offer you my favorite example. Imagine a very hot mistress and her slave in a dimly lit room. He is tied up to a chair with his hands behind his back and his penis is exposed for her to play with as she pleases. She starts dancing and moving seductively around him and she strips out of her clothes very slowly. The sight of the naked body he adores so much makes his penis is starting to harden. She starts masturbating right there in front of him, so close and yet so far, and he is not allowed (or able) to touch. This makes him even more aroused and desire builds in his body like a bomb ready to explode. When she sees that her slave is ready to blow, she starts covering her body, letting him cool down only to start again when the wave of passion passes. The game goes on and on and the rest is the story of the strongest orgasm of his life, but this is to be told in another place.
In a straight relationship, between a man and his woman (or women, depending on the situation) controlling and postponing the orgasm for the man helps him offer the woman multiple orgasms before he has his. Being so horny and desperate for release, he'll do pretty much anything she asks, making orgasm control one of the best methods of control in general. Of course this will make the man have a very strong and intense orgasm in the end, rewarding him for his hard work. Also, controlling a woman's orgasm could help her reach a sexual nirvana, in a sense.
Orgasm control can also be achieved during masturbation using manual stimulation or while playing with sexual toys.
This type of sexual fetish is practiced by almost everyone and it brings tremendous amounts of pleasure to both the person being sexually stimulated and the one that does the teasing stimulation. Of course the roles can be changed and the one doing the stimulation can actually become the one that is stimulated. The pleasure is for both persons practicing orgasm control, even though it sounds one-sided. We know why the person being stimulated is experiencing pleasure but the one doing the stimulation gets pleasure too. The pleasure comes from the idea of total control it has over the other one's orgasm and pleasure, which induces a state of deep euphoria and a sense of power.
In the end I must say that orgasm control is actually a pretty amazing practice and we all should try it at least once. Believe me you will surely want more!