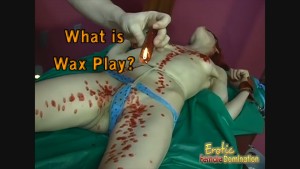 In BDSM, wax play refers to activities that involve the usage of wax for sexual gratification. While it's possible for an individual to engage in wax play by themselves, it is typically done so between two or more individuals, with the administrator being the dominant party and the receiver being the submissive party. There are many aspects of wax play that one should consider before engaging in it.
The underlying principle of the pleasure associated with wax play owes to the fact that an increase in heat application to the skin results in a level of heat-sensitive pain being experienced. As is the case in many examples of BDSM activity, the experience of pain results in the release of endorphins that provide a pleasurable sensation. Note that in wax play, the pain sensations that are experienced are often short lived and when administered in low doses over a long period of time, pose no long-term health risks to the receiver. A secondary characteristic of wax play involves the usage of different colors of wax application, producing a bright and vibrant display on the subject's body. Aesthetic appeal wax in general, as well as the texture of it, may be cited as other reasons for the appreciation of wax play.
Typically, wax application is made to the back or stomach regions. For safety reasons, it is best to start off in wax play by only targeting areas that are free of any sensitive areas. For instance, wax play near the face isn't recommended as it increases the risk of potential damage. Almost all wax applications in BDSM are administered through the usage of candles, with the wax dripping from the candle over a period of time. Different candles have different melting temperatures, which is an important thing to consider when engaging in wax play. For instance, paraffin candles met around 55 degrees Celsius, whereas taper candles can reach up to 75 degrees without melting. While wax players should be careful with higher temperature candles, it may be the case that heat tolerance between genders (with women having a higher threshold) means that variation should be considered if the wax is either too cool or too hot.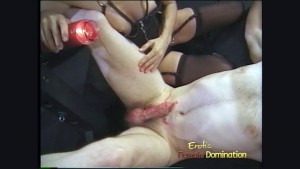 Wax play should be done on surfaces that are either temporary or easily cleaned, as a result of the fact that the removal of wax from some surfaces can be particularly troublesome. Even on the body, wax can sometimes be quite difficult to completely remove – especially around regions where hair is present. Practitioners of wax play should also seek to remove as much wax as possible from their body before showering. Wax has been known to clog drains and while not exactly dangerous, the inability to have a shower without it becoming blocked is less than ideal.
Communication between doms and subs should be very clear during wax play. While proper practice poses little risk, in the event of an accident, protocols should be in place to deal with certain situations. It may seem rudimentary, but having water on standby in case of a fire starting (through dropping a candle, for instance) can stop a bad situation from becoming even worse.
Many who practice wax play on a regular basis will often use massage oils or oil-based lotions before beginning. The thin layer of fat and lubricated surface often helps with the cleanup effort and makes it much easier for wax to be removed from areas on the body. In cases where wax is particularly troublesome to remove by hand, the usage of an implement such as a credit card is usually sufficient. Sharp objects should be avoided when trying to remove wax.