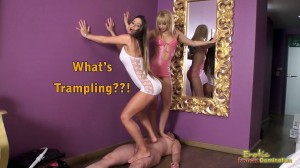 Trampling is a sexual fetish which involves the submissive being trampled underfoot by another person or persons. This type of fetish can be used to produce both pleasure and pain, making it very common in master/slave relationships and BDSM practices. Usually, trampling appears in a master/slave relationship where the dominant person is a woman. She walks on her slave either barefoot or in shoes, likely depending on her fetishes and/or her slave's, and might even jump or stomp on the man's back, genitalia, face, and sometimes the neck.
Trampling is mostly practiced because it produces intense feelings of control to the mistress and feelings of humiliation and frustration to the slave who agreed to this type of sexual game. In comparison with other sexual fetishes, trampling produces sexual arousal by the fact that the submissive person is stepped on and this way it is subdued and humiliated, truly thought of as nothing more than dirt beneath his Mistress' feet. There is no other reference to genitals being touched in a romantic manner nor are they even considered to be part of the game beyond the possibility of stomping on them.
Trampling dommes and people who accept this type of practice as a sexual arousal method could also likely relate to other fetishes like foot fetish and masochism. A person with a strong foot fetish could achieve maximum sexual arousal by feeling a barefoot woman walking all over his body. Also, a masochist will feel sexual arousal because of the pain and general discomfort that trampling involves. If a person is into foot fetish is also a masochist, then trampling is the most effective way for them to achieve the most intense orgasm ever.
A trampling fetish could exist since birth or it can appear over the years when someone has been trampled by accident and feels good in that position. Everything is connected to the sensation of letting the woman be on top of you entirely and feeling her small feet or her heels sticking into your body. For example, let's say John discovered he is into trampling when his crush from high school stood on his stomach as a joke. Everything started as a game where she was kicking him in the stomach with her feet and then she end up by standing tall on his stomach. This didn't hurt John too much, but made him very aroused and this way he discovered he is into trampling.
Generally, trampling can be about power exchange between the mistress and her slave who loves to feel powerless in front of her. Some people (masochists in general) want the pain that can be associated with it and others just want to feel the pressure and the helplessness that is a part of it. There are also people who prefer to be trampled by heels or boots while others want a barefoot or stockinged woman trampling them.
Trampling is a women's fetish as well. It's not just that men have the desire of being trampled and submitting, but women also really like to do the trampling and feel the entire man's power in their hands (or beneath her feet, rather).
Also, foot scent can be a very important part of trampling, especially for men into nylon fetish. Of course here we are taking about a woman wearing nylon stockings while practicing the trampling. As a foot fetishist the man can get excited by the shape of the feet, the length of the toes and the way the foot arches. The smooth skin of the soles on their skin can be something they can't resist, likewise if those feet are sheathed with nylons.
As in any other master / slave practice that can and most surely will produce pain to the person being submitted, safety measures are necessary. There must be established a safety word or a safety gesture between the mistress and her slave especially if she is going to include his neck in the process.