Breasts (also known as tits) are two, typically hand-sized, balls located on the chest of women. While men also have breasts, the fetishism and worship of them is almost non-existent in comparison to the worship and fetishism of women's breasts. For many people, breasts are considered highly sexual body areas that promote arousal when interacted with. Breasts come in a variety of shapes and sizes, and their worship ranges from a desire for oversized, implanted breasts all the way down to flat-chested individuals. As a biological tool, breasts exist for the purpose of producing milk and feeding young. They also serve as a feature of sexual selection and evidence of fertility and/or sexual maturity.

Admiration for breasts and sexual stimulation from them is an almost entirely universal occurrence in both men and women who are attracted to women. Note that the worship of tits is slightly more engaging and specific than mere appreciation – while many would say they have a preference for breasts and enjoy interacting with them, the concept of breast worship is a lot more focused and typically involves classic elements of BDSM – namely the power exchange that occurs during domination and submission. Breast worship will often take the form of a male submissive worshipping the breasts of a female dominant.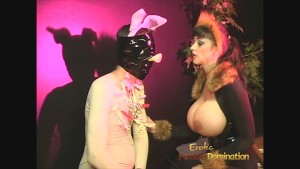 The factors that incorporate the worship of tits are highly varied. There is no one steadfast rule or application required in order to show appreciation and high levels of worship for breasts. However, there are some typical focuses that prevail more over others and those shall be detailed below.
Providing verbal compliments toward breasts is one of the most basic elements of tit worship. Complimenting them on their shape and size is common, as well as detailing the positive attributes of the skin and way that they feel. Verbal compliments might include saying things such as "your breasts are so large" and "they are so soft and juicy".
Note that another aspect of  verbal interaction that may occur is the explicit request for physical connection and engagement, such as saying "I wish I could kiss them" or "I want you to rub them all over my face".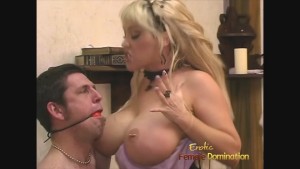 Physical touching is an important part of tit worship. Stroking them with hands or providing oral contact in the form of kissing and licking are frequent tools used by individuals that engage in tit worship. The usage of hands is likely to be the most common action undertaken, although other forms of physical touching (such as using feet or genitals) is also possible.
A closely related aspect of physical touching is that which is not instigated by the submissive, but rather the dominant. For instance, shoving breasts into the face of a willing tit worshipper and smothering them with tits while they give compliments may be another way that people show their worship for breasts.
As mentioned previously, breasts come in variety of shapes and sizes with people enjoying different types. That said, it is a generally accepted rule of thumb that the larger breasts get, the more likely they are to be desired and worshipped. Individuals that have supersize breasts after many implants are the most likely to have individuals actively seek them out for tit worship.
From the female's perspective, breasts are a highly sensitive region – especially the nipples – that can result in immense pleasure just from the physical side of admiration alone. Coupled with a mental element of submission, tit worship can often be equally enjoyable for both individuals.
The relative safety of breast worship and the lack of any tangible physical dangers makes it a great choice for those new to BDSM. For those that desire to engage in tit worship, normal levels of safety and consideration should be adopted as with any other sexual activity.