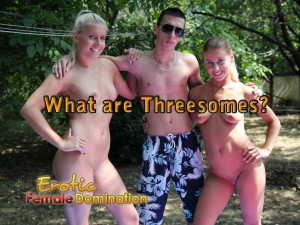 Threesomes, sometimes referred to as three-ways, are sexual activities that contain three people. Most threesomes are arranged ahead of time between a group of individuals that want to have sex together. They can occur between three people that are not romantically linked, although a common form of threesome is for two people in a relationship to find a third person to have sex with. Threesomes are a rather uncommon sexual event, although they are considered one of the ultimate fantasies of a lot of people.
There are many different types of threesomes, ranging between three men, three women or a mixture of the two. Using the characters 'M' to represent male and 'F' to represent female, threesomes can be expressed as FFF, MFF, MMF and MMM. While there are no hard statistics detailing how prevalent these types of threesomes are, the most common are likely to be MMF in pornography and MFF in practice. MMF threesomes are often linked to the concepts of spit roasting and double penetration. Spit roasting is the activity of a woman being penetrated in a doggy-style position while giving a blowjob at the same time – double penetration is the practice of both the anus and vagina being penetrated.
MFF threesomes are typically engaged in a style of one person playing the 'supporter'. As most are conducted by people in relationships with another female, the lady in the relationship is likely to help the new girl have sex with her partner. She'll likely sexually pleasure the girl as well, stimulating her breasts of mouth with her own. Threesomes can also occur a neutral setting, where all three parties are considered equal and it's 'every person for themselves'.
Sexual positioning is an important part of a threesome. Seeing as most men only have one penis, it's vital for a good threesome to have optimal positioning. In a MFF threesome, the male will typically penetrate one of the women while she herself performs oral sex on the second. Some MFF threesomes may decide to utilize strapons as a way for two parties to be penetrated at the same time.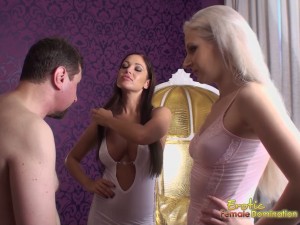 While threesomes are often fantasied about, they are rarely practiced compared to a number of other sexual desires. There is still a level of taboo around the concept of group sex, as it doesn't follow the narrative of sexual engagement between two individuals that are in love with each other. That said, relationship triangles and polyamory are also likely scenarios for where threesomes can occur.
In 2004, a study was conducted that found around 14% of individuals claim to have had a threesome. Another study in 2013 showed an increase of this figure to around 20%.