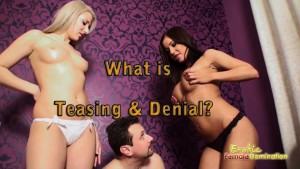 Two common elements of control employed by dominant parties in a BDSM scenario are teasing and denial. While they are interlocked and connected, they are somewhat separate in their practices and applications. Let's take a closer look at what each one means and how it can be experienced by those involved in a scene.
Firstly, teasing is the action of giving someone a suggestion that you're going to do something but never actually delivering upon it. In most vanilla relationships, someone might call the other person a tease by wearing revealing outfits, saying sexually charged things in situations where they are unable to have sex or otherwise giving them a hint of what's to come. As a contrast, teasing in BDSM relationships will typically take the form of purely sexual actions that are engaged in during the act itself. That is to say that the teasing is much more direct and in scenarios where the acts are possible to be experienced, but the dominant party decides not to engage in them.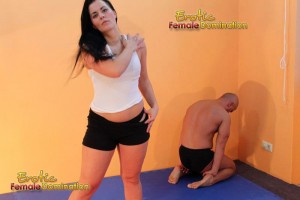 Denial is somewhat similar to teasing, but it goes a little further in that most denial involves the instigation of an activity without following through. For instance, a master may kiss his female subject's inner thighs and skip over her clitoral region before eventually touching it once and not doing so again. He may also pleasure her with a toy for a short period of time before ceasing the action when he believes she's coming too close to an orgasm. Denial of orgasm, or orgasm control, is the most common practiced form of denial in BDSM scenes.
It should be noted that teasing and denial both exist to further the sexual experience for the dominant and submissive party. The dominant individual has the gratification associated with being in control and able to exert power over his subject, whereas the submissive individual has the gratification of prolonged sexual stimulation before an eventual orgasm – they also have the thrill of being out of control when it comes to the point at which they are able to experience an orgasm.
Teasing and denial are common elements in a fetish known as jerkoff instruction, or JOI. In these situations, a male subject will be told how to masturbate by a dominant individual, typically a woman. As they progress, the dominatrix will explain that they are not allowed to ejaculate until they are given permission to do so. Some will then count down from 10 in order to give them time to prepare for when they are allowed to ejaculate. While some will see the full countdown through, others will stop at a low number and make it clear that they are not allowed to ejaculate. The process may start all over again, or the dominatrix may decide to stop the session altogether and completely deny an orgasm to their subject.