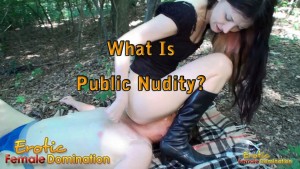 As the name implies, public nudity generally refers to an individual interacting in a non-private location while not wearing any clothes. In most countries in the world, wearing clothes is considered to be standard social practice and the non-compliance with this is frowned upon. Many countries have laws against partial or public nudity, whereas others do not impede the ability for people to be nude in public.
While it is the case that there are good arguments for why public nudity should not be seen as taboo, the elements of public nudity within the confines of BDSM are constructed in such a way that this is an implicit requirement. We accept and understand that public nudity should not always be considered immoral or problematic to society, although we will discuss the elements of public nudity here in the framework of it being humiliating and problematic.
Public nudity can occur in two main ways: within a quasi-private environment or non-privately held location. Essentially, public nudity can be where there are several people at an event that observe a nude individual (such as at a BDSM sex party) or where an individual goes outside while nude. The former is often planned with all people in attendance knowing what's going to happen, whereas the latter is often ad-libbed and not predictable in its confines.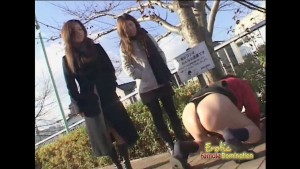 Nudity in public often comes at the demand of a dominant individual and is given toward their submissive counterpart. The exact mechanisms for why it is considered sexually gratifying often hinge on the submissive element of the exchange. Firstly, the mere fact of following the order given by another to strip down is inherently submissive; what's more, nudity is often considered as a basis for expressions of vulnerability. A lack of physical protection is one of the obvious pitfalls of nudity and moreover, aspects of being revealed in one's true state can be particularly humiliating. For some, a lack of confidence in their body may heighten this sensation: being overweight, having drooping breasts, areas of cellulite or lacking muscular definition may all be body-based sensitivities that are revealed when an individual is naked.
Public nudity when going outside may also play with fantasies of being caught or judged. There is a certain level of thrill seeking associated with this, giving a secondary purpose for the public appearance. Essentially, most aspects of public nudity within BDSM all revolve around the concept of vulnerability.
Interaction while at events such as BDSM parties is also a part of the experience. In these areas, the large number of people provides a veil of anonymity, which may lead to people engaging in activities that they might not otherwise be able to do. Additionally, a feeling of helplessness may occur as a result of the fact that the person is overwhelmed by the number of people in attendance. These all tie in intimately with the submissive undertones associated with being nude in public.
There are only minor safety issues associated with public nudity and as such, those that partake in it should exercise standard levels of precaution. It is also wise for those that wish to experience true public nudity to understand the legal status of it in their country. For instance, being topless in New York City is completely legal, as is full nudity in many places in Germany. Conversely, high levels of restriction exist against those in countries such as the United Arab Emirates and Saudi Arabia, where wearing revealing clothing is illegal.