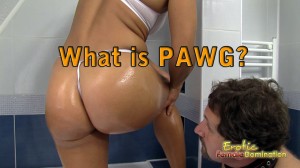 PAWG is an acronym used to describe white women that have big behinds. The phrase is regularly used within the African American community, especially amongst black youth, to describe a girl that they are interested in sleeping with owing to the fact that she has a very large ass. Black men are regularly cited as being incredibly attracted to large asses and many black women do fit this stereotype, however black men can also be attracted to large white girls with big asses and, in that sense, describe them as a PAWG.
The acronym itself is made up of the words 'Phat Ass White Girl'. It likely appeared as an acronym owing to the efforts of a webmaster that wished to market their website where large Caucasian women with big butts were having sex: because no phrase existed at the time to describe this activity, they likely just came up with 'PAWG' as a way to define the porn they produced. In modern usage, it is frequently used to describe a white woman with a big ass that is also having sex with a black man. The word 'phat' is typically used in the African American Vernacular English dialect, so there may be some usage of the acronym FAWG to alter the acronym back into a more understandable structure.
Many people searching for pornography of PAWGs may also have a keen interest in the concept of interracial sex. As stated earlier, a lot of porn that describes a woman as having a 'phat ass' will also feature a black man having sex with her. While this is not always the case, it's typically reserved for instances where black men do have sex with white women. As such, the phrase is used regularly in the interracial porn scene and may have a direct relationship with the fetishization of interracial sex.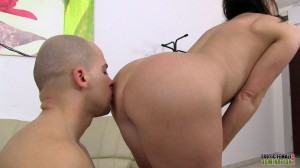 Examples of pornstars that would be considered PAWGs would include White Diamond, Whitney Stevens and Julie Cash. There is a similar phrased used to describe Asian women with large asses, conveniently produced in the acronym of PAAG. The niche is not as popular as the former, and it doesn't appear to have the same level of interaction with the concept of interracial sex.