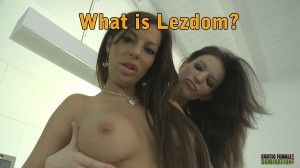 Lezdom is the abbreviation of the term "Lesbian domination" given to the fetish where two or more lesbians are in a master / slave relationship, one being (of course) the dominant while the other one is the submissive, or the slave. This can be considered a different type of master / slave fetish because usually it refers to men and women in a heterosexual BDSM relationship, rather than just about women. That's why the lezdom fetish is one of the most exclusive fetishes, because it always has to involve lesbian women, thus making the experience inaccessible to other people.
The girl on girl videos we see on porn sites usually describe two very hot young women having wild sex with each other, and licking and sucking everything that there is to be licked and sucked on a woman's body. That's all well and good, but many who are into kinkier things find it lacking. With lezdom we have women of different ages and personalities, using whips, toys, and chains in a sensual way and their sex games can also include foot worship and face sitting. The lezdom fetish can get sometimes pretty extreme, because let's face it, we are talking about women doing women here!
Don't you ever let yourself be fooled by that angelic look women always wear on their faces! Women love, more than men, to punish and be punished. They love sex games and they get that sweet little pussy burning for sex in no time. That's why when you think of women in a master / slave posture you have to imagine something extremely hot and bold at the same time. These women don't like it slow and gentle, believe me; in this situation they really like it rough and wild!
Let me draw you a picture that will surely make you understand what lezdom is actually about. Imagine three women in a small room. One of them is fully dressed in leather and high heels, one is half naked with her breasts bared, and one is completely naked, hanging by a chain with her head upside down. I think you can all tell that the one dressed in leather is the dominatrix while the other two women are her sex slaves. The mistress holds a whip in one of her hands and a scarf in the other hand. She hands over the scarf and orders the half naked woman to beat the other one with the scarf and after that to pinch the other slave's nipples. Everything continues with one of the slaves sucking on a huge strapon the dominatrix wears while the other one masturbates for her mistresses' pleasure. The scene gets wilder and wilder until the end when they all get to have the most amazing orgasms of their lives.
Lezdom fetish fits perfectly with BDSM practices and it has a very long history. It is believed that the very first signs of lezdom appeared in the middle ages when a horrible woman was accused and convicted of the crime of kidnapping numerous women. She tortured them for moths, making them her sexual slaves. Well this is just a history fact, and our lady possibly just a woman who didn't know how to express her sexuality in a safe and sane manner. These days we don't have to kidnap and keep women against their will because we can find those who will participate willingly in lezdom sexual acts.
It's true that this is a pretty exclusive club but we don't have to be intimidated by this. Even if you are not lesbians, or if you are but you don't feel like participating in such acts yourself, you can still enjoy the sexual exploits of these women by watching videos on dedicated sites. It may seem a bit more wild than we are used to in the beginning, but in the end you get to see that these women have fun and learn to express their sexuality, albeit in a different way.
As a conclusion I must say that this is maybe the most arousing fetish I have ever seen, first of all because it involves girl on girl action and BDSM practices together. Second of all, lezdom fetish is a sexual act that releases a tremendous quantity of energy and can be practiced almost anywhere and at anytime.