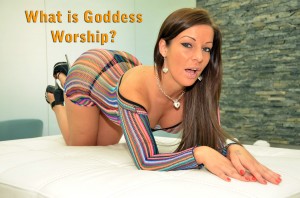 In relation to BDSM, goddess worship is a form of submission whereby an individual (typically a male) will submit himself fully to the desires of a female dominatrix and worship her as if she were a deity. The origins of the fetishization are unknown, but it's likely linked to the real worship of goddesses through religious themes and stories. It should be noted that most goddess worship with regard to the fetish community is not religious in nature and the title 'goddess' functions purely as a demonstration of how willing the individual is to do their bidding.
Goddess worship can take the form of reactive and proactive scenarios. Proactive scenarios would typically take the format of a male slave kissing, touching, complimenting and servicing a mistress with food, drink and other desirables. The proactivity in this case is the male taking it upon himself to show how much the dominatrix means to him – he will likely focus all of his attention on her until she sees it fit for him to relieve himself of duty. It should be noted that typical goddess worship in a proactive sense will be met with ignorance from the mistress: this is to reinforce the power exchange dynamic and show the slave how little they mean in the grand scheme of things.
In a reactive sense, goddess worship is simply doing whatever a mistress requires. She may request that he gives her a foot massage, cleans her shoes or hands over his credit card so that she can buy something online. Goddess worship is very similar to standard slave and master dynamics, but the goddess aspect of the scenario is different in that it deems the slave to be hopelessly 'in love' or infatuated with their captivator – something that is not a requirement for the typical power exchange observed in BDSM scenarios.
Here is a small piece of text where a goddess talks to a slave worshipping her:
I bet you love being down there, looking up at a goddess such as me. You are so lucky to have a lady as powerful as the one before you that is willing to even look at you – let alone provide the time for you to worship her. I think it would be a good time for you to show me just how much you appreciate my beauty. I am a goddess, and it stands to reason that a goddess should be treated as such. Give me your best possible worship session and don't hold back on any aspect. I deserve to be treated with the utmost care. I am your goddess, now show me exactly what that means to you.