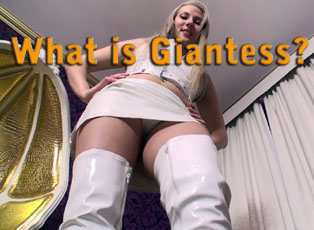 Giantess is a sexual fetish that generally revolves around the concept of a large woman engaging in some way with a smaller man. There are a number of different sources of information and arguments given for the giantess fetish, this article hopes to establish what the niche is all about, how it functions and what people enjoy most about it.
While it is not always the case, one of the most standard elements of the giantess fetish is the female domination aspect of it. By this, we mean that men enjoy both the large-lady fetish and the aspect of femdom that comes with it. While we will touch on one element of the giantess fetish that is not based on a sadistic exchange of power, a large majority of this text will be to examine various ways that porn depicting giantess themes can approach the topic.
The first, and most obvious catch-all category of giantess pornography, is the theme of power. A large woman can generally do whatever she wants in order to control you, and has a complete sense of superiority and power from the bigger position. This theme lends itself to the concept of macrophilia – that is, the sexualization and fetishization of large things. In adult entertainment, the visual cue of an exchange of power is whereby the camera looks up at the female from the perspective of being on the ground. Many people enjoy this angle of cinematography for their giantess porn viewing.
As a sub-element of the giantess fetish, you may find some people enjoy the concept of the prospect of being eaten by the giant woman. This is closely linked to other vore fantasies, which cover a wide array of consumption-related fetishization.
Crushing is a similar category that lends itself to the giantess fetish. Some men may find that they have a desire to be stamped on or walked on over by a very large woman. The sexual fetish here also depends on the individual and their idea of the perfect giantess: some may prefer that their relationship with the activity is one that is purely supported by non-physical abuse. Some may find that the crush fetish is also enjoyable due to the fact that it has close ties with various foot fetishes.
There are other forms of giantess abuse that tend to sit somewhere between physical and non-physical female domination. For instance, spitting in femdom pornography revolves around the idea of someone's face being spat onto by another. In the giantess fetish, this might take a more extreme approach, owing to the fact that the desire is to be covered in a major quantity of saliva. As with watersports and squirting, some may derive pleasure from the idea of not being able to breathe due to the sheer amount of fluid that is expelled by the giantess.
As a final fetish within the sub-category of giantess pornography, some may enjoy the concept of maternity within the niche. That is to say that a male may like a larger female to be overpowering and in control of their actions because it returns them to their days of being a child and having their mother take care of everything on their behalf. Consequently, there may be overlays between both the giantess fetish and the adult baby fetish.
Here is a short story relating to giantess:
Hello there, you little pathetic man. How did you get so small? It must be really hard thinking of yourself as being in any way powerful or strong when you see a giant woman like me looming over you. What would you say if I said that I love nothing more than the idea of spitting in your face? I imagine that it wouldn't bother you, because as a small, short man you have always been instructed on how to live your life. What are you doing to do if I cover you in my saliva and make you beg for forgiveness as I rub my massive feet all over your face? Chances are you would get off to such an idea, knowing how small and insignificant you are.