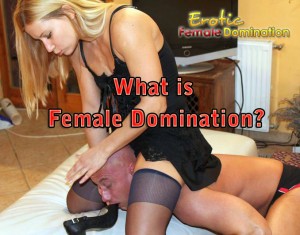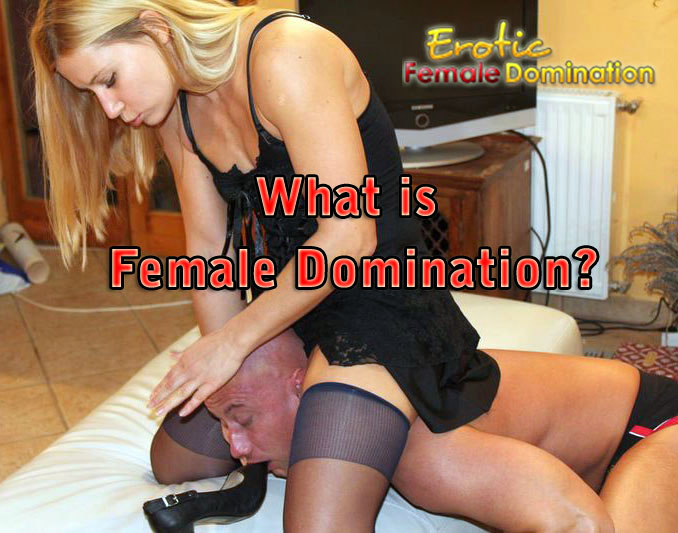 Female Domination is the erotic act of a female asserting her dominance over a male. It's become increasingly more popular with the rise of the Internet, since male submission is often viewed as mildly taboo. However, the Internet allows these men to share their experiences and find Dominatrices more easily. It also allows guys like you to discover high quality female domination pornography, which is also becoming far more mainstream compared to the niche market it once was. More men are realizing that they're submissives at heart and crave to experience this beautiful act, or perhaps they're just mildly curious about what it would be like to submit once in a while. Either way, videos featuring gorgeous female dommes are available where you can see all the various types of domination that are possible. 
Ballbusting is one of the more popular methods of female domination, and one of the more extreme. Many men fantasize about the act, even if they may not wish to do it in real life. So live vicariously through the submissive men who offer up their sensitive balls to be teased and abused by sexy dominant women. Whether you like to see a woman roughly groping and squeezing a pair of nuts or driving her knee into a man's sac, there are more than enough cruel women and willing submissive men to provide lots of variety. Female domination is all about putting men in their place, after all, and few things are quite as degrading as ballbusting, not to mention how it can literally bring a man to his knees!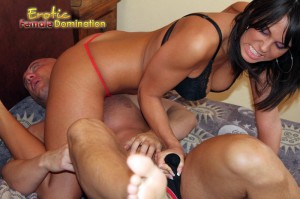 On the more sensual side, things don't have to get that physical. Sometimes it's just sexy to see a woman getting all dressed up in a fetish outfit, whether it's a leather catsuit, a hand-tailored corset, or some skimpy latex attire. And, naturally, one can't forget the footwear. Heels literally put the woman on a pedestal and make her look more imposing by not only adding inches to her height, but also looking quite dangerous themselves, especially stiletto heels. The thought of the damage one of those spiked heels could do is often more than enough to assert female dominance, but the attention to the legs and feet of a superior woman is also very effective in controlling submissive males. Female dominance, as you can see, can also be done simply by wearing the right clothing, without even laying a finger on the male.
Another non-sexual example of female domination is humiliation. This is meant to break down the submissive, sometimes through name-calling and sometimes through humiliating acts. For the former, a dominatrix can call a man a loser, insult his masculinity (or, rather, lack thereof), or make him verbally humiliate and demean himself. As for humiliating acts, they're truly endless: writing degrading words on a slave's body, making him dress up in women's clothing (perhaps even in public!), making him fuck himself with sex toys, or much much more! The only limits are of the dominatrix's imagination.
Many men long to submit and enjoy female domination for what it is, and to focus on the pleasure of the woman rather than their own orgasm. Some women demand this more harshly with tease and denial or chastity training, preventing the man from orgasming. This ensures that he focuses on her pleasure if he ever wants the chance to cum again, boosting his submissive demeanor. This can then encompass hot kinks like facesitting and smothering, burying a male beneath the superior female pussy or ass and making him either endure the humiliation and lack of air, or making him lick her to orgasm over and over again until she decides she's finally satisfied.
Financial domination is an increasingly popular way to experience female domination online. In this practice, men submit even more completely by offering up their money or services to a dominant female not for anything in return, but simply because they understand that the domme deserves the money more than they do. These devoted submissive men give up luxuries and easier living, sacrificing to please their dominatrix. This is especially seen online, since it serves as a realistic way to inflict punishment without any sort of actual physical interaction occurring. As a result, it's often combined with other forms of female domination that work well online, such as humiliation. These men beg for the attention of their dominatrix, who will usually do little more than tell them how pathetic they are or give them humiliating tasks which usually deal with making the submissive take embarrassing photos or engage in sissification. Whichever way she implements it, it's an incredibly effective way to assert dominance online.
Female domination is something that many men yearn to experience at least once, whether they're true submissives who wish to devote their lives to serving a superior female or whether they simply want to give up control for a short while. The latter is particularly common among men who work in careers where they have to be the aggressive one, with submitting to a female being a way to turn the tables and indulge in that suppressed submissive side. Businessmen, lawyers, salesmen, and countless other men in careers which usually hire "A-type" personalities are more common than you'd expect. They simply need a break once in a while, or even more often, giving someone else the figurative or literal reins.
If female domination is something you're curious about or absolutely in love with, there are countless ways to enjoy it. The Internet has made it even easier, since you can not only more easily discover dominatrices online, you can also browse femdom porn covering a ridiculous number of fetishes, many of which you likely never knew existed. Naturally, there's only one way to find out whether they turn you on or not, and that's to explore this varied kink to the fullest.