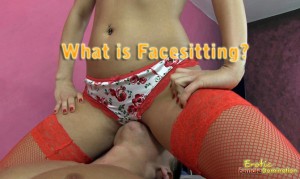 Facesitting is a kink that's not nearly as well known as it should be. Many other femdom-related kinks are far more popular, but few are as hot as this thoroughly dominating and demeaning method. Facesitting figuratively and literally objectifies the male, turning him into little more than a piece of furniture for the dominatrix or something to rub herself against to get off. Despite the simple-sounding term, there are actually a number of methods in which this can be implemented, making facesitting a versatile and fun way of breaking a male. It's becoming increasingly more common in femdom porn, so let's hope it becomes even more mainstream!
The most intimate and physically rewarding facesitting method is nude facesitting. In this, the woman is naked (or at least bottomless) when she lowers herself onto the male's face. There are also, of course, two further options depending on her preferences and her slave's limits. A good slave might be smothered beneath her pussy, having those warm folds lowered right onto his face, giving him no choice but to worship and obey. A dominatrix may be content with this humiliation, covering his face with what he's not allowed to have. If she's feeling a bit nicer (and in need of some more physical pleasure) she can order him to lick her pussy to orgasm. As many times as she wants, of course; he's not going anywhere anytime soon. Naturally, he won't be allowed to orgasm during the session, since his only focus should be pleasing his Mistress and keeping his tongue moving at all times while she's facesitting. The alternative to this would be making the slave do the same to her ass, worshiping and rimming it just as eagerly to prove his devotion to his Mistress. This also allows the Mistress to finger or toy her pussy while the slave is busy licking her ass.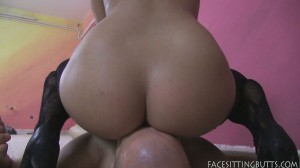 Another option is facesitting while clothed. Whether she's wearing one of her usual outfits or teasing her slave by wearing something he finds particularly sexy (denim, latex, leather, pantyhose, etc) it functions the same as above except she sits while wearing something else. While she can certainly order her slave to lick and try to make her cum, it can be difficult, if not impossible, with many types of clothes. That shouldn't stop her from making him struggle pathetically in his attempts to please her, though! Whether he succeeds or not, he's at least proving that he'll do whatever it takes to make his Mistress happy, even while she smothers him beneath her superior body.
There are various po
"sitions to keep in mind as well. With "forward facesitting", the woman sits facing the man's body. Whether she chooses to make him focus on her ass or pussy, her ass will fill his vision, a sight certain to make him squirm, especially if he has an ass fetish. A position like this also allows for additional physical torment or pleasure to the slave. While forward facesitting, the Mistress can toy with her slave's nipples or his cock. Stroking a slave's cock while doing this will assuredly make him an even more eager pussy-licker or ass-licker, so long as you make sure not to actually let him cum. His orgasm isn't important, after all. For crueler Mistresses, light or hard pain can be inflicted on the slave's cock and balls while in this position too.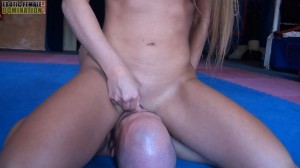 Backward" or "reverse" facesitting is what you'd expect, with the woman facing away from his body. The slave will likely have a view up her body, able to see her pussy and the underside of her breasts. It's even easier to grind yourself over a slave's face in this position, since you can lean forward without having to move closer to his inferior cock. Watching his Mistress' superior body writhing with pleasure while he obediently licks her will make him even hornier and, as a result, even more desperate! Never be afraid to tease your slave, since it ensures he'll always want more and do more.
There are lots of facesitting videos and stories catered to fans of female domination, making it very easy to further get into the mindset of either the domme or the slave, and also to see just what this wonderful act looks like in action. When you guys see a beautiful domme lowering herself onto a slave's face, rubbing herself against him while he's given no other choice, you'll instantly see why it's so popular and you'll likely even become more curious about trying it in real life. It's also a way to really surrender power to your domme, ending up on your back with her weight pressing down on you to keep you in place. Likewise, any dommes who see just how dehumanizing it is to sit yourself down on some guy's face will feel the need to give it a try, assuming you aren't already implementing this regularly!