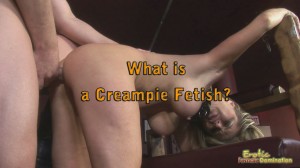 Creampie fetishism, also known as internal ejaculation, cum in pussy and breeding, refers to the activity of an unprotected penis ejaculating into another person. Creampies can take place anally from both a female and male perspective, although the majority of creampie pornography and fetishism takes place vaginally. Creampies were not observed in early pornographic films, but became popular after the turn of the century as online adult entertainment started to take off. The word itself was coined around 2002 and has been the de facto phrase ever since.
Creampies take place when a male ejaculates into another person without a condom. The fetish is particularly enjoyable for two main reasons: the idea of it being 'dirty' and potentially dangerous, as well as the risk of impregnation. The former is dealt with more within the confines of the gay community, whereas the latter is, owing to the nature of pregnancy, reserved exclusively for male on female creampies. It should be noted that there is an increased risk of transferring diseases through creampies, so practicing it between two fully tested individuals in a monogamous sexual relationship is the best way to minimize potential issues.
The concept of impregnation is often cited as a reason for why so many women enjoy creampies: having sex has its evolutionary roots in the purposes of procreation, so for many women who have a heavily instinctual desire toward reproducing, the sexual thrill associated with creampies heightens their arousal. Many women can also orgasm themselves when having a male partner ejaculating inside them, with the instigation of their own orgasm produced by the fact that they may get pregnant as a result of the activity. This may have an biological advantage, as female orgasms are stipulated to increase the probability of a female falling pregnant.
Some people may engage in 'breeding parties', which with its name might suggest a female recipient, but the phrase is also used to refer to male receivers as well. Breeding parties occur when someone is ejaculated in several times, with the females hoping to fall pregnant from one of the men that has given her a creampie.
The visual aesthetic of cum leaving the vagina is often considered part of the appeal of a creampie. Owing to the fact that internal ejaculation can be incredibly arousing and physically pleasurable owing to the lack of protection, the amount of cum produced can be well in excess of that if the person wore a condom or ejaculated elsewhere.