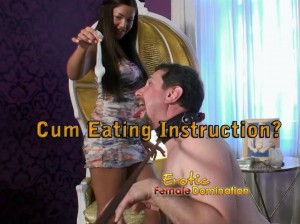 Cum eating instruction (sometimes referred to as CEI) is the activity of an individual being told to consume their own cum. It typically occurs after someone has masturbated during a session of jerkoff instruction (sometimes referred to as JOI) and is then told after they ejaculate that they have to eat the cum. The activity is almost always done from the point of view of a dominant woman telling a submissive man that he has to consume it, although as with all fetishes, it does not have to follow this rigid structure of gender.
Cum eating instruction can occur in two fashions: being told before you ejaculate that you're going to eat the cum, or being told after that you're going to eat it. Some people prefer the former, others the latter – it's also common for either one to be just as enjoyable as the other. The cum eating is usually done instantly, however it may also be requested that the cum be mixed in with something else (a milkshake, salad, etc.) so that it can be consumed over a period of time.
When a submissive is told before he ejaculates that he needs to eat his cum after the experience, it can often present an intense and erotic sense of conflicting desires. On the one hand, they really want to ejaculate, but on the other, they really don't want to have to eat it. The thrill and pleasure from the orgasm in this case can be very pleasing. Likewise, having a mistress that only tells you after a jerkoff session that you must eat your cum can be thrilling via the fact that you do not know whether or not it will be required. Mistresses and dominatrices may mix up how regularly it happens to tease or otherwise catch their submissives off guard.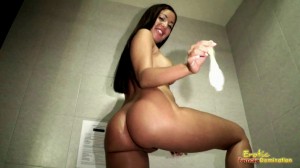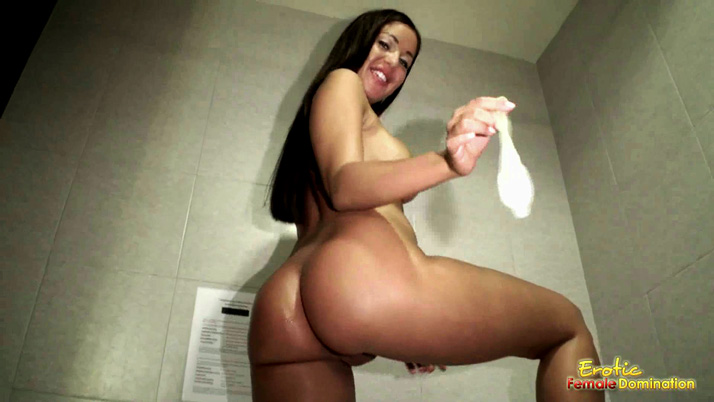 Cum eating as a meta concept within fetish engagements is often arranged before the individual engages with a mistress. As with a number of other activities, it is up to the person on the receiving end of the experience to decide what they are willing to do. Cum eating is rarely brought on without previous instruction to bring it up at a future date, as the niche nature of the activity may ruin an experience for an individual that does not want to do it. Put simply, a mistress should only ask a submissive to eat their cum if they truly desire for that experience.
Eating cum via the directions of a dominatrix can be done externally, making it a fetish often engaged with over the Internet or other forms of long-distance communication. A popular way of having a session of CEI is to have a Skype call between to people, similarly to how jerkoff instruction experiences can be engaged.