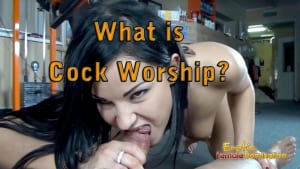 Cock worshipping is, as the name likely suggests, any activities that revolve around the submission and worship of a penis. Note that while it is possible for a man to worship another man, or for either sex to worship a transsexual's penis, for the purposes of this article, we will be focusing on exchanges of power that involve a dominant male and a submissive female. In almost all cases, cock worship will be of this nature and power exchange medium.
Owing to the highly sexual nature of a man's penis, worshipping cock is quite a common activity for female subs to engage in. Cock worshipping can involve many activities and spans a range of actions that all lead to making the male feel powerful and confident with his penis.
Much cock worship surrounds the personal desires of the submissive individual to enjoy it. Saying things such as:
'I want your cock inside me so much right now.'
'Can I put it in my mouth?'
'It's going to feel so good.'
Are all relatively common phrases that help the male feel as if his cock is desired. Complementing the penis is also an aspect of cock worship, with specific focus given to the size, thickness and hardness of the dick. In many cases, average-sized penises can still be complimented in this fashion with a suspension of disbelief being employed to make it more enjoyable for both people involved.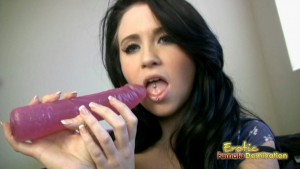 Cock worship in physical terms is primarily engaged via the mouth and the hands. Licking, stroking, sucking, kissing and playing with the shaft of the penis are all ways in which a submissive individual can worship the cock in front of them. While not always the case, worship of the testicles is also associated with cock worship as well, with some people using their mouth to pleasure a man's balls while giving them a handjob at the same time.
Subs to cocks will often consider the size and thickness to be the most important elements. Some females actively seek out men with large penises and submit to them, purely because of the fact that they have a large penis. In some instances, racial dynamics and worship of black men will come into play, as black men are often considered to have larger penises than any other race. The phrase 'BBC worship', meaning big black cock worship, is used in these situations to denote the desire to submit to a black man.
For the worshipper of a cock, being given cum is considered to be the ultimate 'aim'. Bringing a man to a point where he's overwhelmed with pleasure is considered to be a big compliment and incredibly pleasurable for those that worship cock.