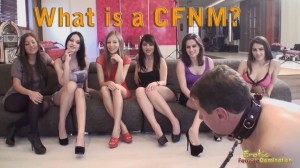 CFNM stands for 'clothed female, naked male' and in its core exploration is an activity whereby one or more men are completely naked with one or more women who are clothed. It is typically the case that the male is not covered in any way and that the females are not dressed in sexualized items of clothing (such as corsets, dresses, fishnets, etc), but instead wear more modest clothing. However, this is not always the case and a great deal of variety is able to be explored by those that enjoy the CFNM niche.
The history of CFNM activity dates back hundreds of years. Classic forms of art typically displayed naked men a lot more than naked women, and it's thought that art up until the renaissance period followed a pattern whereby men were more acceptable in nude than their female counterparts.
Those that practice scenes of CFNM may like to do so in a public setting or at least a semi-private environment where it's possible for others to observe and perhaps become a part of the scenario if they desire to do so. CFNM can be practiced between just a single male and female, although most common scenes are with one male and at least two females. Some niche fetish groups may hold large sessions of CFNM occasions where several males are paraded around a club or bar completely naked. Some forms of male stripping may fall under the category of CFNM depending on the activities that occur.
As with most forms of BDSM, a power dynamic is likely to be exchanged during CFNM experiences with the male almost always taking the form of submission toward the female. The extent to which this is practiced varies greatly on the individuals involved, but light humiliation, physical punishment and verbal abuse are all considered standard within the CFNM scene.
Some argue that the recent years of female sexual liberation has led to a switch in roles with regard to dominant and submissive sexual experiences. Those that practice clothed female, naked male scenarios may do as only as a result of the fact that females have become increasingly more accepted in the sex community as being able to be in positions of power. With a recent surge in the production, consumption and desire for CFNM pornography, this theory serves as a plausible explanation as it greatly coincides with female sexual liberation.
The less common reversed scenario of a clothed male, naked female scenario is conveniently referred to as CMNF.