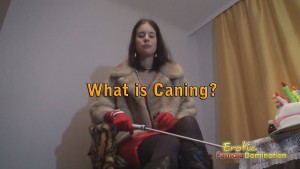 Caning is the practice of spanking an individual using a device called a cane. Historically, canes have been used by individuals in positions of power within institutions to administer punishment through physical pain. Canes were mostly used in schools, where disobedient or underperforming pupils would be subjected to hits of the cane in an attempt to fix the behaviors that were considered undesirable. While caning in these circumstances were used across many parts of the body (the hands especially), within the context of modern BDSM and caning for the purposes of sexual gratification, usage of it is often limited to the buttocks.
Canes come in a wide variety of shapes, lengths, thicknesses and employ a wide range of materials. Most canes are around the thickness of a small finger and have a length of between 2 to 3 feet – variations are utilized to achieve different effects, with longer lengths generally providing more leverage for a harder hit. The thickness of the cane is also an important element of the experience, with thinner ones increasing the stinging pain experienced owing to the smaller surface area upon which the force is applied.
Materials for canes vary, with wood, fiberglass, steel and other materials being adopted. Colors are also varied, although most tend to be a solid one, with black being the most common tone adopted. A dominatrix or master may have several canes at their disposal and change their usage of each one depending on the circumstances of the scene. It is not uncommon for a dominant individual in a BDSM experience to 'upgrade' the cane they use to inflict more punishment upon their target.
Safe practice of caning will often involve a soft, gentle spank to begin with that is gradually escalated. As with other forms of spanking, the tolerance for the amount of pain that is able to be experienced increases as the exposure to the action rises. That is to say that a slow, steady increase of pressure applied with each caning should be considered. Consistent strikes in the same location are also recommended, as movement to other parts of the body may produce quite a shock to the system.
Canes produce sexual pleasure for the receiver through the blending of the lines between pain and pleasure. Releases of endorphins are experienced when the body goes through physical trauma: controlling exposure to this is an ideal way to trick the brain into receiving high doses of pleasure without overly negative side effects. As with all sexual practices within the BDSM framework, safety should be ensured and safe words employed to make sure both people are secure and capable of handling themselves in the situation.