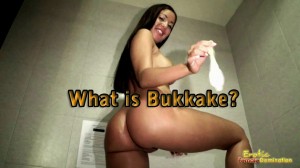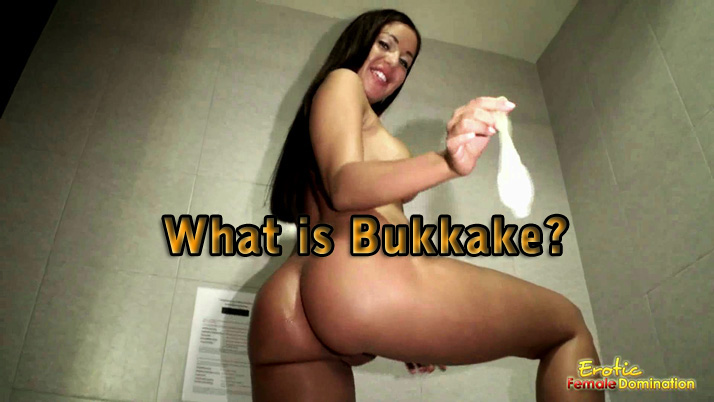 The sexual practice of bukkake typically contains a single woman surrounded by a group of men that ejaculate over her. The practice originates from Japan and came about as a result of the fact that the government has imposed tight restrictions on the pixilation of genitalia in pornographic videos. For this reason, all Japanese porn is legally required to cover up the genitals of adult performers, which ultimately lead to the admiration of the beauty of women in the pornographic videos. Bukkake quickly followed, as it allows for a woman to have no sexual organs on display (although they usually are anyway) but still create a powerful sense of sexual engagement.
Bukkake is different from a standard facial given the fact that the number of men required in order to make it a 'bukkake' scene is bigger than one. There are mixed definitions regarding what the number of people required for a bukkake scene are, but three is often considered to be the lowest possible value. It should also be noted that female versions of bukkake can exist, where women will either squirt or urinate over a man or a woman during the scene.
Scenes of bukkake will often occur in a room with one woman in the middle of a circle of men. Most performers will be naked and the men will be masturbating in order to get to a point where they are ready to ejaculate. They will then take it in turns to cover the woman in their cum. There doesn't appear to be any steadfast rule regarding the level of sexual interaction between the men and the woman in the scene: some girls may request not to be touched directly by anything other than the penis, whereas others might desire giving handjobs, blowjobs or even penetrative sex.
Many people argue that the sexual fetishization of bukkake can be explained as a result of its simulation of group exploitation. The primary fetishes involved are humiliation and degradation, with a particular focus on how dirty or whorish the woman in the bukkake is for allowing herself to be covered in a male's seed.
There also appears to be a clear difference between the styles of Western bukkake porn scenes when compared to those practiced in Japan. Japanese bukkake is much more subdued and often provides a heightened level of power exchange dynamic between those that are participating. Comparatively, Western bukkake scenes have a much more relaxed and 'chilled out' environment, often with the woman actively talking and enjoying her role as a target for the men.