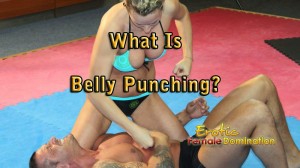 Belly punching is a sexualized form of physical punishment that, as the name suggests, revolves around someone being punched in the belly. The belly region is typically a hard one to describe, although most will understand it as being centered on the belly button with a 6-12 inch range surrounding it also being considered worthy as a target. As with many power exchange dynamics in BDSM, belly punching occurs when a dominant party wishes to subject a submissive to physical punishment. Relatively speaking, belly punching is a rather uncommon activity that might be reserved and practiced only for those that request it.
The most common aspect of belly punching is the size of the belly. For many, there is a sexual thrill in having areas of their body they dislike being subjected to physical pain. Naturally, men with large stomachs may request belly punching from a mistress in order to punish them for being fat. Overweight men typically have a better level of success with belly punching as well, owing to the large reserves of fat allowing for a greater level of strength to be used by the dominatrix.
Belly punching can be a potentially problematic activity and one that should be practiced with care. After all, being so close to vital organs can mean that one may rupture and cause internal bleeding. Unlike other forms of physical punishment that have visible markers of how far a dominant party has gone (such as spanking), belly punching rarely provides a strong level of feedback that can allow the domina to adjust the amount of force she decides to use for each punch. There's also a small risk of the mistress hurting her hands through the punching process, although so long as they are not full-strength hits, this should not be much of a concern.
Men receiving punches to the belly can often feel a sensation similar to receiving trauma to the testicles. The common response for protection is the same in both cases: a strong desire to form a tight ball-shape with your body and 'lurch' over your legs. This sensation may be enjoyable for many men and with less potential damage being committed, it may be preferred over traditional testicular punishment.
Punching of the belly may also be a group activity with a number of mistresses taking it upon themselves to punish a submissive male. They may decide to do 'rounds' of boxing with the slave, or alternatively take it in turns to deliver one punch before looping around to the person that started the beating.