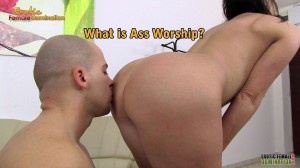 Ass Worship is a fetish that can be practiced in two distinct ways. In general, it refers to worshiping the buttocks in a very sexual manner, the simple sight of the ass making the worshiper become extremely aroused and close to climax. The ass worship fetish is included in the large category of body worship and the people practicing it are from different social layers and of different genders and ages. So we can say, as a very early conclusion, that ass worship fetishism is accessible to anyone.
If we think about it, we can say that we all practice this type of fetishism because let's face it, who doesn't like to see a nice, round behind moving in front of you, if you are either a man or a woman? Men love to see a young lady in front of them, moving her amazingly round and perky ass like it is ready to jump out of those tiny pants right there in the street. Also, ladies are very impressed by a gentleman with a naughty, round ass and they would just love to give it a small and deserved spanking. I am sure that there is no one between you who haven't bitten that sweet round apple with greed and lust just like the ass is the object of your deepest and darkest sexual wishes. So, by definition, we can all say that we are ass worshipers, if just to a minor degree.
Leaving the text book definition aside, ass worship can be mostly a fetish practiced in BDSM relations or in female domination relations, where the worshiper is allowed to lick, suck and kiss their dominant's ass but never to touch it with their hands or even imagine doing something else with it. This is a way of arousing the worshiper and making them want to touch so badly that in the end  they get very close to climax.
Imagine a bedroom all decorated in red and black silk, in a dimmed light sustained by candles and in the middle there is a slave with his hands tied up, kneeling in front of his mistress who stands tall, wearing nothing but her whip and her pride. She is moving her amazingly hot ass in front of her slave making him reach to it without being able to touch. He tries to grasp the smell of her body and the smoothness of her ass from the distance and caresses her body only with his eyes, begging her to let him touch her. But no, there is still play time and she won't give up the fun of seeing him torn apart by desire. In the end she starts to get closer to him and lets him kiss one cheek, then the other and then lick her ass like he would be licking the creamiest of ice creams.  Then the lights go off and you can imagine what happened next in there…
At the beginning I was telling you about two distinct ways of ass worship. We talked about the master / slave way, where there can be involved some BDSM practices and now we are going to explore the other way. Here we are talking about people who really love the beauty of a round, perky ass and they usually end up concentrating on this body part more than on any others. There are no BDSM practices involved and no master / slave relations, just a very strong attraction to buttocks. These people could also use spanking as a gesture of appreciation of the beauty and sexual arousal it awakens.
Spanking can also be used in the master / slave relationship as a form of punishment or encouragement. Verbal and physical acts are also common in both situations and they can either mean punishment and humiliation or encouragement to go further.
Anyway we would see it, the ass worship is just another body part fetish very common and practiced by most of the couples in the world. The only difference between worshipers and those who consider being straight/vanilla and without a fetish is actually the acknowledgment of the fetish. Anyone can admire a beautiful ass and be aroused by it only by sight but there is a small selection of people who actually consider themselves extremely attracted by the buttocks.
In the end, ass worship can be practiced by anyone. This fetish is not exclusive and even without knowledge is practiced by most of the world couples.