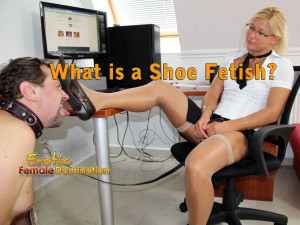 The fetishization of shoes is undertaken by individuals that attach sexual desires and experiences with many types of footwear. It is sometimes referred to as retifism and is most commonly observed in men who have a sexual attraction toward a woman's footwear. While there are some slight differences in the underlying concepts behind the similar fetishization of boots, for the purposes of this text, they are interchangeable concepts with the same general outcomes.
Shoe fetishism is, in addition to being a male-experienced, female-perpetrated engagement, linked to the interchanging of a power dynamic where the man is submissive and the woman is dominant. This owes to the fact that the feet and lower half of the body are often closest to the ground and furthest away from the body of the woman, playing on ideas of being lower and not worthy of her proximity.
Various shoes are fetishized, although the most common to be sexually attracted to are high heels. Heels in and of themselves are quite sexual in nature, helping women to present themselves in a much more feminine fashion. As such, many men may find the way they are introduced to the idea of fetishizing footwear and shoes is through high heels.
The fetish itself can be experienced and engaged in a number of different ways. The obvious visual stimulation of shoes is attractive to a lot of men, as well as the idea of particular pairs of shoes (slip-ons and flip flops) dangling from the wearer's feet, displaying some of their foot in the process. This is a voyeuristic fetishism that can often be engaged without the individual even being aware of the fact that they might be erotically motivating.
Other forms of shoe fetish engagement are more active, with a dominant mistress requesting her 'shoe slave' to worship what she's wearing. New shoes are most commonly used, with demands of them being licked and kissed, although some have a desire to clean up dirty shoes of their mistress after she has been out in a pair. Smelling is an important part of this type of shoe worship, with a desire for the shoes to smell of a sweaty odor.
Shoe fetishes are quite common, although regularly unmentioned in casual conversations about sex. Many feel that while it is a harmless practice, being a fetishist for shoes may make them appear to be strange or perverted. In a data leak of several million searches from the AOL search engine, over 60% of individuals showed a preference for shoe fetishism that had their searches leaked and had at least one search for a body or clothing associated fetish.