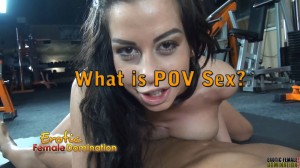 Point of view (often referred to and documented as POV) is a style of filming that puts the camera in the hands of someone involved in the action. POV porn was not something easily available for a number of years during the origins of Internet pornography owing to the fact that the technology was not there to make easily portable, inexpensive and simple to use cameras for filming. However, in recent years, a large surge in the demand and production of POV scenes has arisen due to the development of better cameras that are less cumbersome and easy to handle.
There are two main advantages to the POV porn genre from both a filming and watching standpoint. On the recording end of POV sex scenes, there is no requirement for a third party to be present during the shooting of a scene. This means that the girl involved may feel more comfortable with a one on one environment, and the simple fact that it costs less to produce lends itself to the advantage of keeping the number of people involved to a minimum.
In the user end of the POV sex experience, it makes it appear as if you are in the scene and having sex with the pornstar in question yourself. Combining with the concept of suspension of disbelief, a viewer of POV sex videos may find it much easier to enjoy the experience if they can feel as if they're in the moment with the model. It can also lend itself to providing an easier to appreciate scene, as a regular complaint of third-party recorded porn is the fact that the action is not always focused on the woman, with many getting turned off when a full shot of the male is included.
POV sex often combines with a reality or gonzo-style approach to adult entertainment. These types of filming aim to make the viewer feel as if the girls involved are amateurs and happy to have sex without the aspect of money being involved. POV videos may also include preludes to the scene, where the actor meets a woman at a bar and then takes her back to his place for sex. This also further lends itself to the believability of the scene, as it promotes the aspect of sex for the purposes of pleasure, as opposed to being all about business and professionalism.
Some POV shoots may not always be better than their third-party filmed counterparts, however. The activity of filming and having sex can often complicate the scene, leading to a reduction in the quality of the sex. Male pornstars that record in a POV format may find that it is harder to maintain an erection owing to the fact that they often have to watch the sex unfold through a small screen or lens.