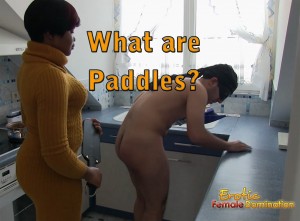 Paddles are tools used in impact play within the framework of BDSM. They are typically made of refined wood that has been smoothed and covered in a layer of vanish or similar material for protection purposes. Paddles are similar to tools such as canes, riding crops belts and whips in that they are used to apply a sharp force to the body of another person. They are a rather common tool and most dungeons or practitioners of BDSM will likely have at least one.
Paddles differ from a lot of other implements for the infliction of pain by virtue of the fact that they have a rather large impact area. Generally, paddles have the same surface region of impact as a large hand and as such, offer a different sensation to the receiver of the administration of the paddle. For reference, the act of using a paddle to inflict pain upon another individual is known as paddling. Paddling is undertaken by dominant parties in a scene and the receivers of the paddling are their submissive counterparts.
A typical paddle shape is a rectangle with rounded sides, similar to the back of a hairbrush, although purely circular paddles are also popular. Some paddles may also have special designs, such as love hearts. Paddles can also be engraved with words such as obey, sir, slave and others – these engravings are typically written backwards, so when the paddling occurs, the outline of the word can be seen on the body. Textured paddles are also popular, with some having a pattern and design similar to that of a meat tenderizer.
As with so many other elements of BDSM, paddling can provide sexual pleasure to the receiver by virtue of the fact that the experience of pain often leads to the body releasing endorphins that provide a sense of pleasure shortly thereafter. The usage of a paddle should typically start off rather non-aggressively and then worked up at a gradual pace. Paddles are almost always used for spanking – that is, application on the buttock region. Their large size is a direct result of their application in this role.
Historically, paddles have been used in non-sexual scenarios for the administration of corporal punishment. Leather has been popular in the past for paddle usage, although a gradual shift toward preference for wooden paddles is evident in the BDSM community, likely owing to the fact that its rigid structure offers a greater level of impact. Paddles may be utilized as tools for period or scene specific roleplaying in BDSM. Their usage in schools has been seen throughout history and as a result, punishment that is based around student/teacher scenarios may prefer to use paddles over other items such as whips and canes for a more authentic experience.
The paddle has one great benefit over the usage of a hand: it provides a more leveraged and effective medium of punishment. Avid spankers may also find that the usage of a paddle reduces the likelihood of their hands stinging from repeated strikes.
The safety of a paddle is generally considered to be higher than that of more pinpoint instruments, such as canes. The reason for this is that the possibility for a missed spank is much less likely to occur. The risk of hitting the genital region with a paddle from spanking is almost possible, although with a cane, it is quite possible.
Standard levels of safety should be considered for paddling and as always, open and direct dialog should be maintained between the paddler and their submissive. As mentioned previously, a gradual buildup to hard spanks is encouraged, as this helps the receiver build a gradual tolerance to the impact.