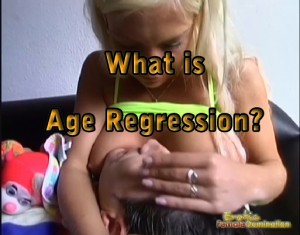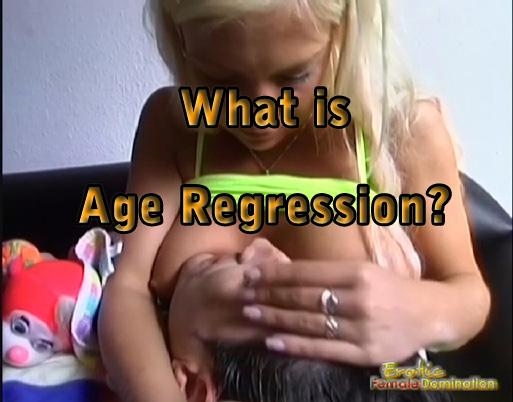 Age regression is an umbrella term for a number of different fetishes where an individual enjoys being treated as a different age than what they actually are. It should be noted that age regression is more of a period theme as opposed to flat age fetishization: pretending to be 29 when you are actually 30 during a standard sexual scenario would not constitute as age regression. This means that most people regress to an age that is not adult, these people are referred to as being adult babies.
Some people practice age regression without a sexual element attached, although this is distinctly different to someone that has a fetishization of age play for erotic purposes. However, it is perfectly possible that a person who enjoys sexual age regression would also enjoy non-sexual age regression scenarios.
Common themes within age regression include having a mother figure, dressing up as a baby and being treated as if you were helpless. The major theme running throughout all of these is the element of not being in control: in the same way that a baby has no control over what it does, an adult baby also seeks this lack of freedom.
Clothing can typically include a full-body outfit, sporting 'cute' colors and being made out of a soft fabric. Props such as bibs, dummies and diapers are also common tools to help the person enjoy their age regression. Some may also pick to be in a typically playground environment, with some going to long lengths in order to satisfy their desires. For instance, some adult babies will have rooms in their houses that are entirely devoted to pretending to being not adult, where they have a large-sized cot and toys to play with.
Age regression will also commonly include themes such as parental nurturing and care. Adult babes may enjoy being breast fed, having their diaper changed and being given a meal in a high chair. Adult babies typically prefer to act in a fashion that is compliant with their mother's wishes. While it is also possible to have a father figure looking after an adult baby, the maternal connection between babies and their mother is much stronger than that of a father figure, and thus they are almost always used as the position of the parent.
(Please note, this is a self censored version of the article to comply with payment processors regulations, and certain words were changed or left out)